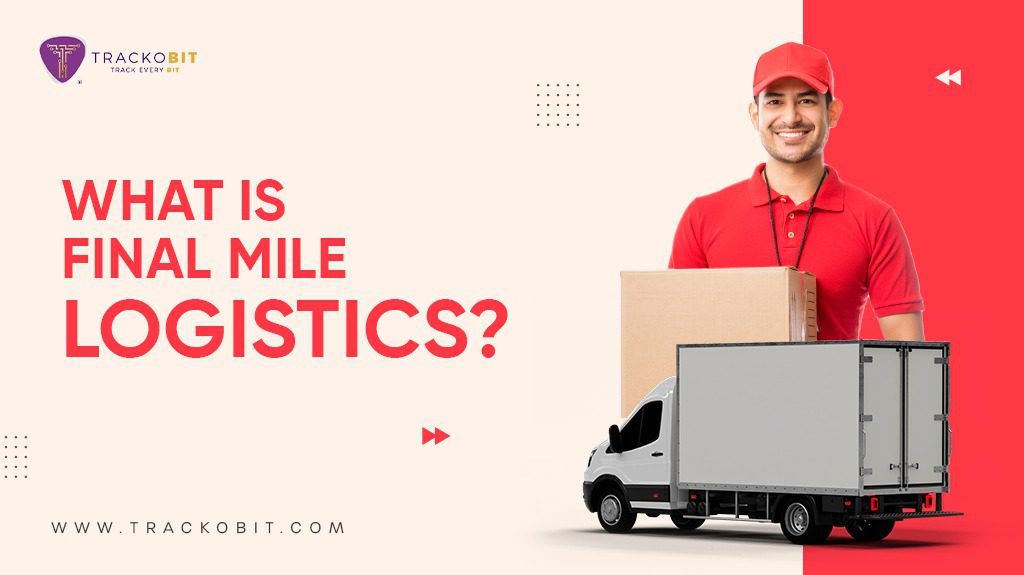 If in today's day and age you are not aware of what is final mile delivery, you are missing out on thousands of dollars! Learn how to integrate final mile logistics into your business!
Gone are the days when final mile delivery was a novelty service. In a world where by 2040 all purchases will be made online, final-mile logistics holds a centrepiece in supply chains. And this is not the case for only D2C or B2C companies. This is also the case for product-based B2B businesses. 
Everybody wants their orders and products at their doorstep – without exception. 
So, in this world, how can final mile delivery be just a novelty service? It's not, right? So, why still consider a luxury your business efforts indulge in? 
In this blog, we will tell you all about final mile logistics and delivery. We will showcase how you can integrate in your business, how it works, and why you are missing out on at least 26% of net profits by negating final mile logistics!
Learn About TrackoMile's Final-mile Automation Here!
What Is Final Mile Delivery?
Final mile logistics, or better known as last mile logistics, is the final leg of a product's journey in the supply chain. It is the process of transporting the product form the final seller or hub to the final consumer. 
The whole point of final mile delivery is that customers should get the product in the quickest, affordable, and smoothest way possible. This itself is a huge challenge because final mile logistics is in fact the most expensive stage of the supply chain.
Read this Blog: To Know Everything About Last-mile Delivery!
Who Uses Final Mile Delivery?
The answer to this question is simple – any business that needs their products to reach the end consumer needs a final mile delivery system.
The biggest businesses that use last mile delivery are ecommerce businesses, retailers, hyperlocal delivery platforms, businesses in the food and grocery sector, logistics firms, local restaurants, and parcel companies. 
As long as your products need to reach the end consumer and need interaction with them, you need final mile logistics!
Read this Blog: Interested in using EVs for Your Last-mile Efforts?
How Does Final Mile Logistics Work for Businesses? 
Every business that involves selling products needs to add final mile logistics into their business one way or another. Well, by one way or another, we mean, one of of the two following ways:
Building an in-house delivery management system 

Employing a 3PL service to take care of the entire supply chain 
For businesses that have enough infrastructure, funds, time, and other resources to devote to in-house supply chain management, the former is a good choice. (For example, Amazon) 
However, most modern businesses, be them ecommerce platforms, or product manufacturers choose the latter (for example, FirstCry uses Xpressbees for their last mile delivery efforts) for two specific reasons:
In-house supply chain management takes too much efforts 

Outsourcing delivery allows them to focus better on product management and branding
The final mile delivery system that you choose to use depends on your business format and resources. However, no matter whether you are in favour of an in-house delivery management system or outsourcing the entire ordeal, make sure that you are using an efficient last-mile delivery management software for fool-proof management.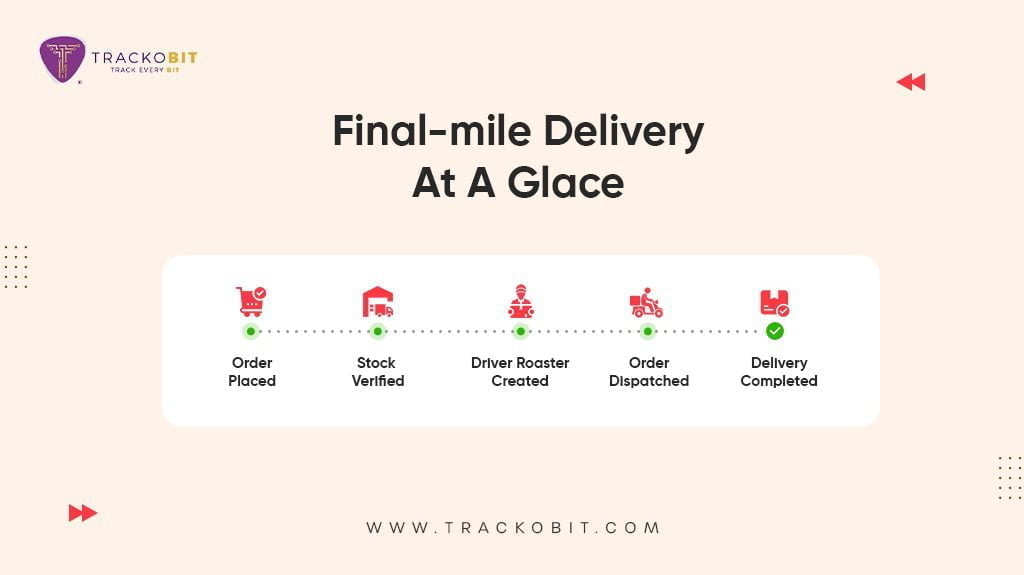 How Long Does Final Mile Delivery Take?
Every business takes different durations to fulfil final mile deliveries. This variation comes from factors such as:
Urgency of the package/delivery 

ETA promises made to the end consumer 

Infrastructural integrity and strength 

The delivery partner 

Location of the sender/warehouse and the consumer 
The general final mile logistics cycle can be anything between 0-10 days. 
But to really understand how much time it takes businesses to complete a final mile delivery and why it takes them that long, you need to understand the process of final mile delivery. Let's have a look! 
Step 1:

Customers' orders are recorded by the manufacturer/seller manually or into a centralised customer management system. 
Step 2:

The goods are transported from the manufacturer to the nearest delivery hub. This is part of middle-mile logistics. This step, of course, is not applicable to local sellers and retailers who might be the nearest hub to begin with. 
Step 3:

Either manually or through software, delivery agents are assigned to all last mile deliveries, along with a recommended route. Using software in this step significantly reduces operational time since what can take hours to do manually is automated with the software. 

Step 4:

The delivery agents set out with the parcel for delivery. 

Step 5:

The parcel is finally delivered to the customer and the manufacturer (if using a software for management) receives

proof of delivery

.
As you can see, the process is pretty long. However, it can be shortened massively with last mile delivery software and proper supply chain management. And shortening the process as much as possible is advisable, because with faster delivery systems available, 25% customers abandon the cart if same-day delivery options are not available.
What Are There Challenges With Final Mile Deliveries?
There's no shortcut to success. There's so substitute for hard work to overcome challenges. 
But, where do you put your hard work if you are not even aware of the challenges in front of you? 
Final mile logistics comes with so many challenges, which is exactly why it is something so fruitful if you get it right! Let us look at some of them here: 
Same-day Delivery Expectations
The logistics system has become a lazy logistician's nightmare. 
Amazon's same-day delivery services have driven customer expectations to an all-time high and made their patience go to an all time low. If you do not offer same-day delivery, depending on your business-type, you are likely to lose 30% of millennial buyers! 
However, managing such a service requires very strong infrastructural and managerial strength, especially in case of larger businesses that do not only operate in a local vendor setting. 
Managing Deliveries In Different Geographic Segments 
The kind of delivery management you require for rural areas is very different from what you require for large metropolitan cities. After all, customer expectations are different, delivery partners' exposure differs, and so does the area's infrastructure. 
Building service resilience for both – unplanned rural areas and well as high-rise societies – is not a child's play. From vehicle management to route planning, the approach is different, and you will have to build on them simultaneously to maximise your reach. 
Meeting ETAs In Spite of Road Congestions
Everybody hates traffic congestion. But you know who hates them the most? People in a hurry! 
And you know who is in a lot of hurry? Delivery persons carrying packages in the final mile supply chain! 
Traffic congestion is a huge problem when businesses have promised that the customer will get their package in 10 minutes. Because even a delay of 5 minutes means 50% delay – and that is HUGE! After all, 70% of consumers will say that if they receive a package late, they are more likely to browse the competition for future services! 
However, traffic cannot be avoided and it becomes a huge challenge for businesses to navigate the roads when the car in front of you will JUST. NOT. MOVE! 
Providing Affordable Deliveries With Rising Costs
The final mile delivery segment takes up about 53% of the total shipping cost of a package. What's more, a single failed delivery can cost about $18. (Read this blog to know more facts and stats!) 
However, regardless of what it costs the business, the end consumer will not pay too much for doorstep delivery. (If you charge it, you are likely to lose all loyalty!)
With rising fuel, manpower, and infrastructural costs, managing affordable deliveries becomes a HUGE challenge for businesses offering doorstep delivery (engaging in final mile logistics). 
Managing a Complex Network of Drivers
The larger the operational area, the bigger the complications! After all, businesses will have to maintain a huge network of drivers and riders. Managing their attendance, productivity, tasks, and performance is almost impossible without software backing. 
Obviously, the more the drivers and orders, the more the number of trips a manager will have to manage and maintain.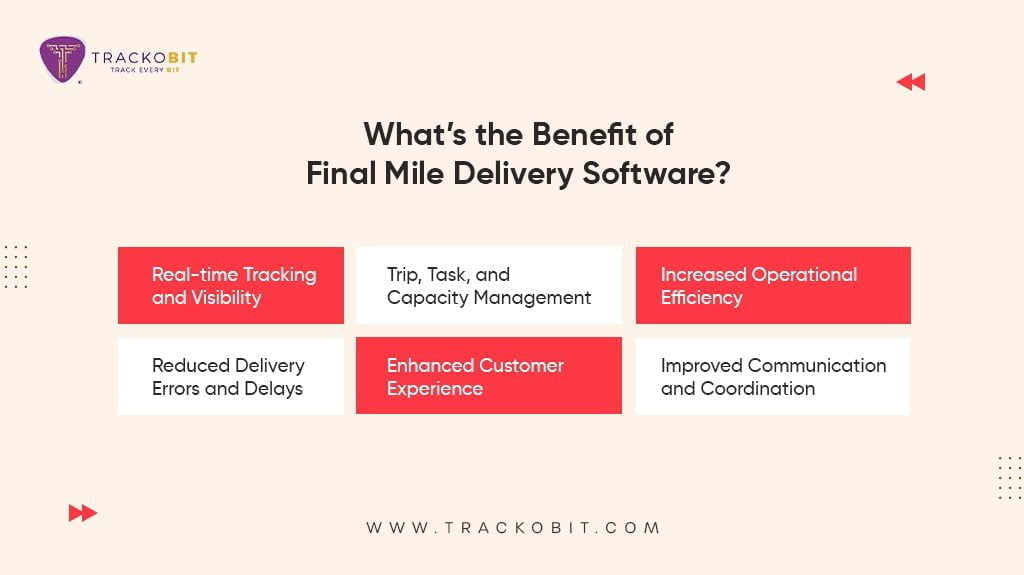 What's the Benefit of Final Mile Delivery Software? 
Sure, the challenges to final mile logistics are overwhelming. But you don't have to worry about anything because you use last mile delivery software, don't you? 
It's okay (for now) if you don't, though; because after reading the following benefits, you will definitely start using technology to your advantage! 
Real-time Tracking and Visibility
Real-time tracking is one of the primary features of any final mile delivery software. Therefore, you will maintain maximum visibility into your operations. And the higher the visibility, the more you can be satisfied that everything is okay. And even if it isn't – at least you will know before it's too late! 
Trip, Task, and Capacity Management
The software will collect all the data regarding delivery windows, package size, drivers, etc. Then, it creates the most efficient route to go about it – all while managing the capacity on each vehicle and managing drivers' shifts. Pretty, nifty, right? 
Increased Operational Efficiency
A final mile delivery software will ensure that all tasks, trips, orders, drivers, and all the rest will be streamlined. With fewer manual mistakes, you will definitely see a huge spike in operational efficiency. 
This efficiency can also be observed in how much more time your managers will have at hand to strategize better! You'll be saving a lot of costs, time, manpower, and other resources on the field! 
Reduced Delivery Errors and Delays
No more do you have to deal with delivery errors. With the right delivery management system for the final mile, your efforts will always be automated and free of manual errors that will eventually cost you a lot of time, effort, and money. 
Moreover, all the transparency will come in handy when you can navigate any errors that might have occurred. 
Enhanced Customer Experience
With deliveries made on time and in a cost-effective manner, you are sure to improve customer experience. Faster and cheaper deliveries are two most important factors to retain clients in your business.
Since you can now maintain ETA transparency, customers are likely to trust your deliveries more too! 
Improved Communication and Coordination
Piggybacking on the previous benefit, if your delivery management is able to provide affordable and fast deliveries, why will customers not be happy? Every good final mile delivery management gets you a loyal customer! 
Learn How To Choose The Best Final-mile Delivery Software Here!
Improve Customer Experience With TrackoMile's Final Mile Deliveries
Since final mile logistics is such a crucial aspect of providing end-to-end product delivery and building strong customer loyalty, iot is crucial to pay close attention to it. 
Final mile is not only here to stay, but also to disrupt the logistics market to its full capacity. As software systems advance, so will customers' expectations and competition's efficiency. And you do not want to be cornered by new businesses that do what you do better you, right?
That is exactly why you need a last-mile delivery software like TrackoMile – your one-stop software solution to all things last mile delivery. So, what are you waiting for, let us be friends in your final mile delivery process so that you can finalise better business – everyday!