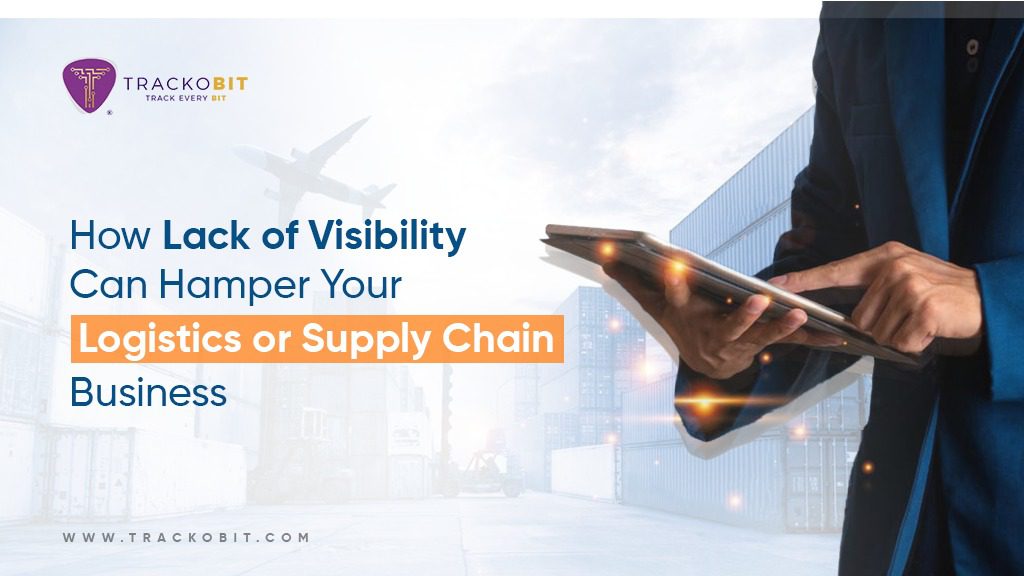 Uncover the importance of visibility in the supply chain and logistics industry. What role does fleet management software play in that?
Logistics and supply chain operations without adequate visibility are like yesteryear's thing.  In this age and time, the supply chain business is built on fleet management software that ensures real-time visibility throughout. 
Especially, post the COVID-19 pandemic the logistics industry faced a paradigm shift toward the inclusion of technology and automation at all levels. According to McKinsey's study, 93% of supply chain leaders agreed that they were planning to increase resilience and digitization across the supply chain. 
The logistics and supply chain industry has always been very complex but now it's also expanding at the global and domestic levels. With D2C last-mile delivery has also emerged as a separate domain in supply chain management. 
What Kindles The Need for Visibility in the Supply Chain? 
Evolving customer expectations and increasing competition in the supply chain industry have fuelled the need for real-time visibility. Consignors, consignees, and customers wish for real-time updates on their consignment. 
With visibility comes a sense of safety even if the customer doesn't monitor the movement of the consignment regularly yet they know it is being tracked so it's secure. Technology has also instilled the need for predictive updates such as ETAs. 
Customers are not shying away from making online transactions and billing anymore. This keeps everything documented in the system, hence ensuring the security of data and consignment. 
Also, the need to decentralise operations for complex sectors demanded visibility. In order to dismantle the old-school disparate data silos, the logistics 

Why is Supply Chain Visibility Important?
Poor visibility can hamper the supply chain businesses in more ways than you and I can think of. As technology penetrates the industry the want for automation will become the need. Even today, it's much more than just beating the challenges posed by the competition and customer expectations now. Businesses seek scalability, transparency, and predictability in their operations. 
A study conducted by Gartner stated that only 21% of industry professionals agreed to have resilient supply chain visibility software in place. 
 

Visibility is synonymous with credibility in today's day and age.

 
Industry 4.0 is all about extracting the best of technology and automation to optimise production, manufacturing, and business operations. In order to keep up with the transformation the industries are going through to stay future-proof, the supply chain industry will also adopt automation and visibility completely. 
What are the far-reaching impacts of the lack of visibility on the logistics industry?
Increase in Churn Rate
Customers today are more aware, demanding, and smart than ever. In the age of 5G and social media, people are quick and upfront about their grievances. They want answers to their queries in a matter of minutes and expect everything to be convenient and automated. They expect real-time updates on the consignment's whereabouts and have common questions such as who's the driver, what's the ETA and what's causing the delay.  If the customers are not satisfied with the experience they tend to switch to other brands in a jiffy. This spikes the churn rate of the customers, affecting the business's bottom line. 
Inaccurate Goals and KPIs
Without in-depth insights, it's not easy for managers to set goals and KPIs, let alone monitor the quarterly productivity report. Data enables managers to make informed decisions pertaining to businesses, assets, or the drivers for that matter. The historical data helps map the progress so far, hence, allowing projection of the probable trajectory.   
Lack of Business Farsightedness
What is your opinion prompts farsightedness? No, it's definitely not the guesswork. Experience may help shape the analysis and predictability but the only thing that adds ground to any prediction is data. Accurate KPI benchmarking is the first in that direction. Farsightedness stimulates scalability by making you future-ready. 
Declining Productivity and Efficiency
Dwindling productivity is not always the by-product of insufficient work and an inefficient workforce. It's also important to understand that if the roots of the business start losing grip in the market that can also be the result of incompetent business choices or a sluggish approach. Maybe the competition is planning and working a few steps ahead. In order to match or beat them real-time visibility and data are imperative. 
Smart mobility can put so many things in perspective for businesses who were operating on superficial reports and guesswork for years. Fleet management software to the likes of TrackoBit is working towards refining telematics technology and simplifying mobility across terrains and borders. 

Benefits of Real-time Visibility in the Supply Chain
The power of visibility can not be underestimated.
There is not a single industrial sector left that doesn't count on technological aid for efficiency and better productivity. Similarly, supply chain and logistics are leveraging telematics and smart mobility to improve productivity. With enhanced visibility comes better management but what are the other benefits? Let's find out:
Mitigate Challenges
Business leaders are openly talking about #VUCA theory these days. It underlines how volatility, uncertainty, complexity and ambiguity keep crossing paths with the business and affect the growth trajectory. This is where visibility can help mitigate VUCA challenges with historical data and predictive analysis. 
Data-driven Decision Making
Accurate insights and on-point analysis stimulate confident decision-making. Managers mix their experience, intelligence, and data together to make informed decisions. You know it categorically whether the problem was with the route taken, the driving behaviour, or the vehicle per se. This improves the success rate by reducing the chances of going wrong with any decisions.
Customer Satisfaction
As we discussed earlier, customers today are more aware and informed, therefore, they need instant resolution to their queries. Since the manufacturers and dealers lay trust in the 3PL companies with their million dollars worth of consignments they expect top-notch safety measures. Fleet management software ensures real-time visibility, consignment security, and safe delivery supported with PODs. 
Streamline Operations
While manual monitoring and centralised management can be so taxing these days. Automation decentralises supply chain operations with real-time visibility at all levels. Managers can remotely micro-manage the fleet and their movement if they want or simply forget about them and concentrate on better tasks as the software is keeping an eye on the assets for them. Everything is possible in a single platform with API integrations from anywhere at any time. 
The Growing Need For Supply Chain Visibility
The growing demand for logistics and supply chain visibility is at an all-time high. In the automotive sector alone the demand for telematics software is expected to grow at a CAGR of 21% between 2022 and 2030 to reach 72,780 million dollars. 
Enterprises are counting on advanced fleet management software with video telematics solutions and driver behaviour analysis to fetch complete insights into every movement and action on the road. TrackoBit comes with the latest telematics solutions in its product suite built on a sophisticated tech stack. In order to know more about industrial insights and how to pick the right software for your company.
Reach out to our team of experts