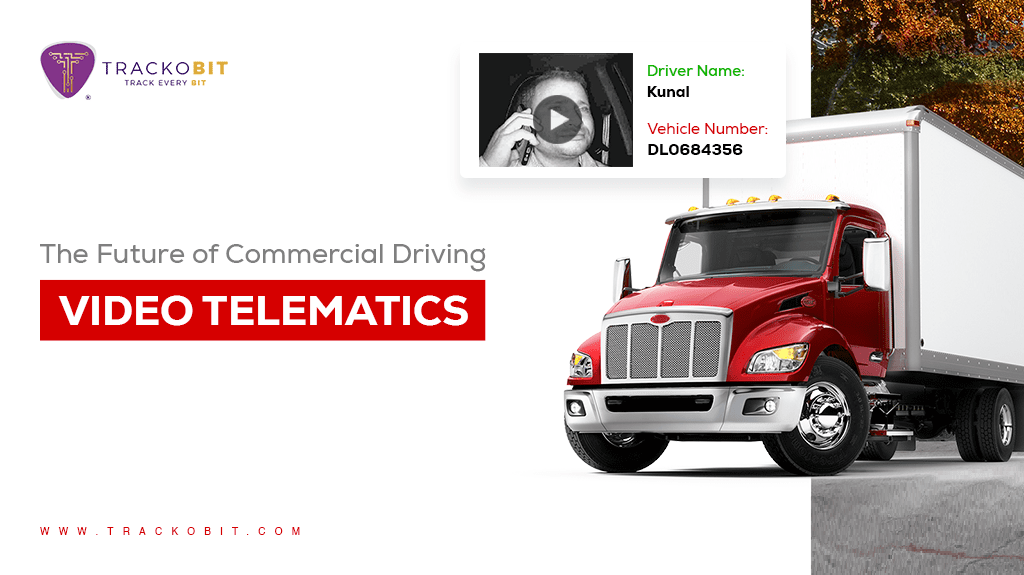 "Conformity is the jailer of freedom and the enemy of growth." – John F. Kennedy 
Growth must be the only constant in an industry, regardless of whether or not industries and individuals want it. Aid from fleet management software stimulates growth in commercial fleets – growth in the direction of building safer and automated fleets. 
Self-driving has been a rage since Tesla came up with autonomous cars. However, with potent telematics software, we are on the quest to make completely automated cars a normative reality.
Wondering how that is possible? Well, for that you need to continue reading this blog! 
What is Video Telematics? 
Till now you must be aware of traditional vehicle telematics systems. These systems send textual information and alerts to managers for relevant events. However, with modern technology, this vehicle management system can be upgraded to video telematics – a system that serves the same function, but with visual cues and proof. 
Video telematics can make managers omniscient with the fleet by giving them a constant view of what is happening in and out of their vehicles with dashcams and outward-facing cameras. Therefore, managers get all the regular vehicle telematics data along with visuals of the driver and surrounding vehicles' movements. 
Comprehensive video telematics systems offer complete reports – both visual and textual. With these reports and live visual tracking, several unimaginable things become very evident in fleets – things such as proximity surveillance, advanced vehicle safety, and automated vehicles! 
What Advanced Tools Does Video Telematics Bring? 
Video telematics itself is a pretty advanced function in fleet management software systems. However, there are several other even more advanced things to offer.
Managers are the brain of your fleet, the vehicles the body, and the drivers the limbs.
Therefore, video telematics serves all three while taking special care of your fleet's limbs. After all, no limbs, no movement, right? 
The following solutions will allow for revolutionising future driving practices and the way commercial fleets function by reducing instances of road accidents! 
Driver Monitoring System (DMS): With the help of the right software and other technical aid, fleet management software can check when drivers are distracted while driving. It is the best way to increase vehicle safety since it allows managers to prevent any distracted driving pattern from becoming fatal beforehand. DMS systems are powerful enough to send alerts for events such as the driver getting drowsy, using their phone, or even smoking.

Advanced Driver Assistance Systems (ADAS): Advanced driver assistance system's primary function is to prevent collisions. Therefore, it allows the vehicle to be aware of its surroundings and acts extra eyes and vigilance for the drivers.


Through ADAS, you can get prompt possible collision alerts, overspeeding alerts, and lane-switching alerts. 
Is Fleet Management Software Enough?
Sure, fleet management systems play an important role in maintaining the future possibilities of commercial driving and advanced vehicle safety. However, unless a complete system is at work, most things are not possible, even with the best technological aid at hand. 
Advanced fleet management software systems can give your vehicle the function it needs to move forward into the future. However, are those features implementable, or will lay dormant in your fleet's functions? 
Here are a couple of things fleet management software systems necessarily need to facilitate growth:
High-tech AI and ML Systems: Sure, video telematics can help send fleet management software alerts to the managers. However, to detect problems through the slightest of movements such as yawning or a vehicle approaching, you will need advanced AI and ML systems. 
Strong network connection: Strong network connections such as 5G have the capability to create strong V2V (vehicle-to-vehicle), V2I (Vehicle-to-infrastructure), and V2X (Vehicle- to-everything) systems. Through these networks, ADAS works better as it leverages not just video but also data to find the best predictions.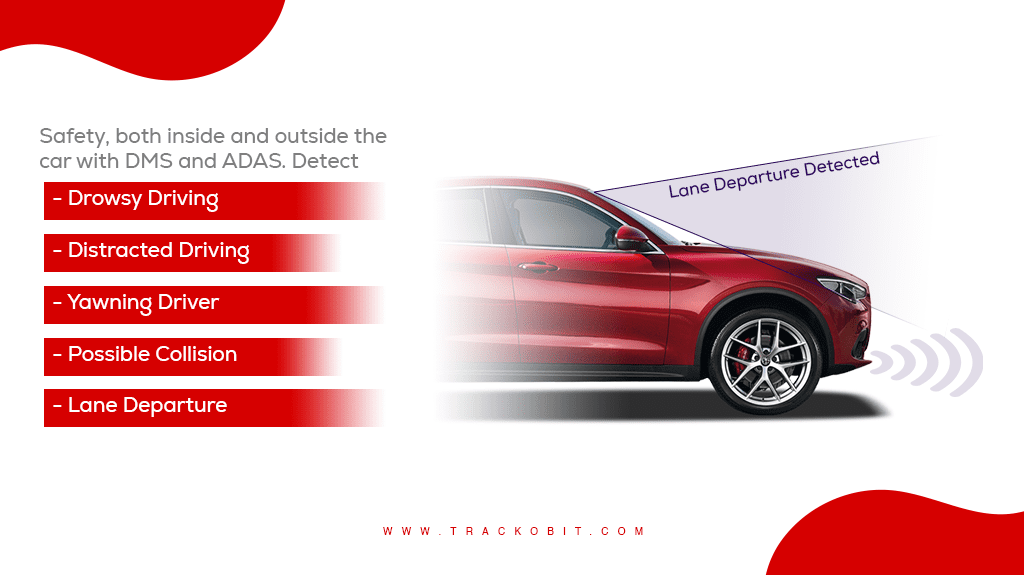 DMS and ADAS Redefining Commercial Driving 
On the surface, DMS and ADAS are just like any other sensor. Video cameras capture visuals and software categorises actions as events to send alerts accordingly. However, other sensors send alerts that essentially increase productivity. 
DMS and ADAS are solutions that revolutionise the way commercial vehicles will be driven – not managed. 
As we have already understood, DMS systems allow managers to have a better eye on drivers and ADAS allows them to have a better eye on the road. Let us look at how the two systems individually affect commercial driving by reducing road accidents. 
DMS for the Safer Fleet 
Driver monitoring systems are the safest bet in reducing road accidents due to neglectful driving. Here's how:
Zero Distraction: Smoking, distractions, drowsiness, yawning, absence, and camera blocking – are a few things that DMS will alert managers about. With correct measures, there is hardly any scope for drivers to be distracted on the road, automatically reducing accidents due to carelessness. 
Driver Assessment: When managers can see how drivers are in the cars, it is easier to assess drivers' reliability. Therefore, managers can take steps to make their fleet safer than it was before careful assessment.
ADAS for the Intuitive Vehicles 
Advanced driver assistance systems are what make self-driving cars a possibility in the near future. How? Let's see! 
Higher Vigilance: Through ADAS systems, managers get notified when there is a possibility of forward collision, signal violation, lane switching, and overspeeding. If you install rear cameras, back collision is also notified for. This way, the vehicle is under much more vigilance than what a driver can do manually. 
Better Connectivity: With all vehicles having cameras incorporated into them, global connectivity becomes simpler. Therefore, surrounding and traffic intuition make vehicle automation possible. With the right technology, this can lead to automatic actions that will keep vehicles from colliding with one another, even in heavy traffic conditions. 
Make Your Fleet Future-ready With TrackoBit! 
"At least 40% of all businesses will die in the next 10 years… if they don't figure out how to change their entire company to accommodate new technologies." — John Chambers, Cisco System
To save your business from going down that lane, you need automated systems and technical aid to help your fleet grow alongside the industry. 
Your business should have all the early bird and competitive advantages that it can have to provide its mettle, right? That is exactly what TrackoBit is here for – to help your business be ready to take future advancements and challenges head-on!