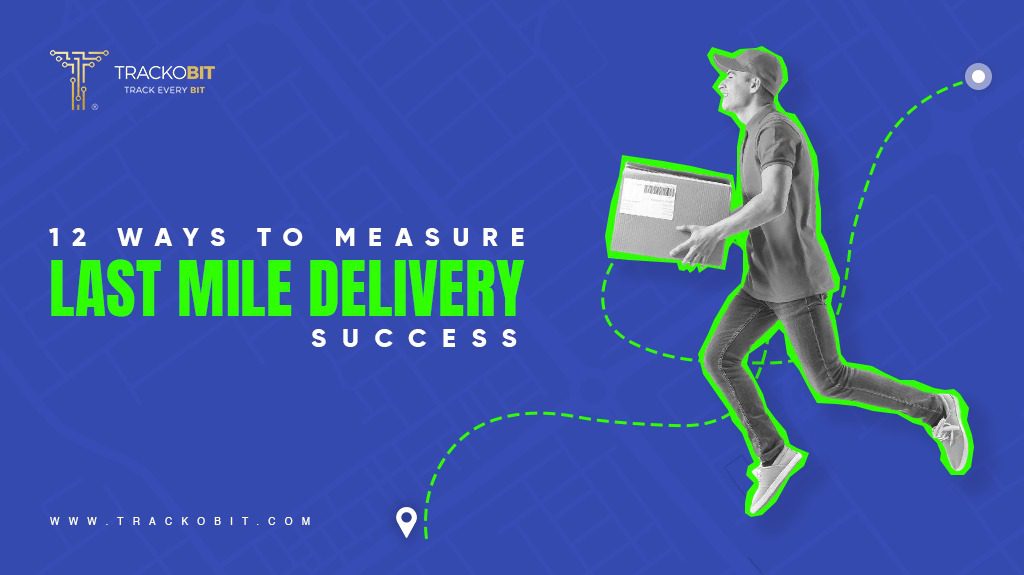 Uncover which 12 key metrics defines last mile delivery success – from on-time delivery to customer satisfaction…what else?
The last mile delivery is critical for determining overall business success and customer satisfaction. As the last leg of the supply chain, it has a deep-rooted impact on the magnifying company's reputation and customer loyalty. To ensure a seamless and efficient last tranche of delivery operations, last mile delivery companies need to measure their performance accurately and proactively.
The disruption of modern technology in the face of last-mile delivery management software is a blessing for operators with plenty of fleets and obligations to meet customers' needs. 
In the following blog, let's explore 12 KPIs that help measure the success of last-mile delivery processes.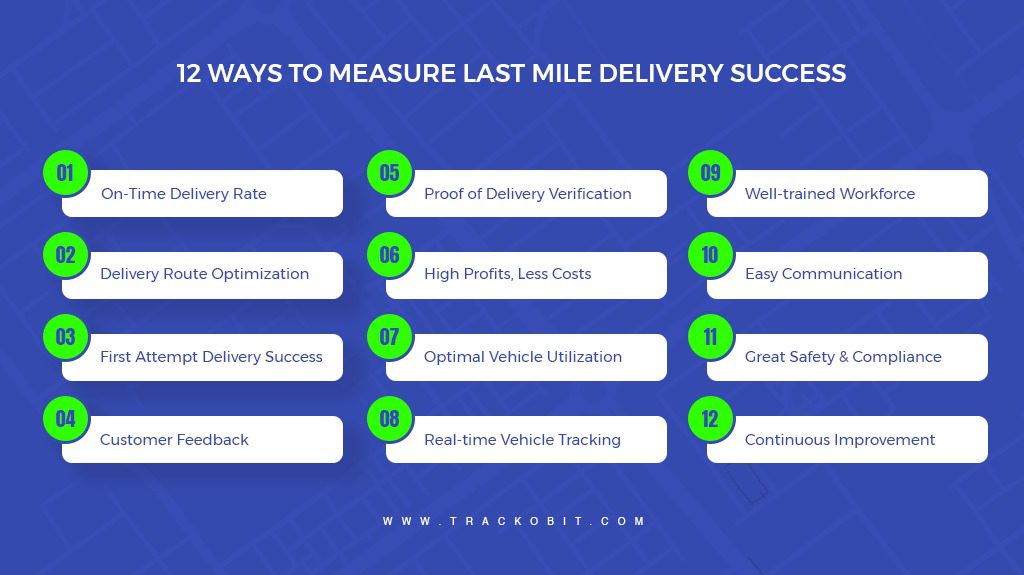 How to Measure Success in Last Mile Delivery?
The Last Mile Puzzle
12 Ways to Spot Success in the Final Stretch
Last mile delivery success is determined by several critical factors that work in parallel to ensure seamless and efficient deliveries. Here are 12 factors that help surpass last mile delivery challenges.
One of the most important aspects that define success in last-mile delivery is the on-time delivery rate.
💡 What is On-Time Delivery Rate?
The number of deliveries that are made to customers within the promised timeline.
They say, achieving a high ratio on-time delivery rate builds customers' trust and enhances brand reputation.
Advanced last-mile delivery management software has made it easy for businesses to track delivery progress in real-time, which down the line helps them address potential gaps or delays proactively.
Delivery Efficiency and Route Optimization
Companies in order to track their growth and efficiency need to ascertain the number of successful deliveries they made over the course of time. 
Today's advanced vehicle management tools help businesses track their order fulfillment to gauge delivery efficiency. Last mile delivery software 2023 enables route optimization to help drivers pick the most efficient paths to reach their destinations.
The optimized delivery routes help lower their average delivery time. All this not just increases their productivity but also reduces fuel costs and carbon footprints.
First Attempt Delivery Success Rate
The first-attempt delivery success rate is important, especially for businesses that are new entrants to the supply chain landscape and have a great rapport to build.
Definition:
First Attempt Delivery Success 💡
This rate explains the percentage of deliveries that are fulfilled on the first try itself.
Businesses with fleet management systems can track their fleet of vehicles in real-time and get instant notifications regarding vehicle movement, ETAs, delivery status, etc. This enables companies to minimize delayed or missed deliveries and subsequently avoid redelivery attempts. In the long run,  good first-attempt delivery rates reduce operational expenses and improve customer satisfaction.
Positive Customer Feedback and Reviews
Customer feedback and reviews are the lifeblood of supply chain businesses that crucially define last-mile delivery success. They help businesses identify their customers' trust and anticipation for future services. 
Best Last-mile delivery management software is helpful in collecting honest feedback from customers and helps fleet managers gain visualized insights into their delivery experience. If they are able to pull up positive feedback, it means customers are aligned with their venture for the future to come, while unsatisfactory feedback would help them identify the scope of improvement.
Authentic Proof of Delivery (POD) Verification
A credible and successful supply chain or delivery business is one that furnishes authentic POD (proof of delivery) verification to maintain transparency between customer and business. 
A last mile delivery software is capable of providing Proof of Delivery (POD) in the form of recipient's e-signatures, product photos, barcode scanning, and much more. With this feature, supply chain businesses can ensure that the package is reaching the correct recipient safely. This enhances accountability and reduces the risks of delivery disputes. Overall, it helps in improving the last mile delivery experience for both the sender and the recipient.
Reduced Delivery Cost and More Profitability
Businesses would not mind cutting down their per-delivery costs and increasing profit margins, right?
Less operational costs and more profit margins are clear signs of their business succeeding  in last-mile delivery.
Fleet management systems help organizations analyze data about the cost per delivery and spotting gunk along the process. With the wealth of data, organizations get to vouch for more optimized resources and the scope of cost-saving opportunities while improving the overall efficiency of the delivery process.
Real-time Tracking and Visibility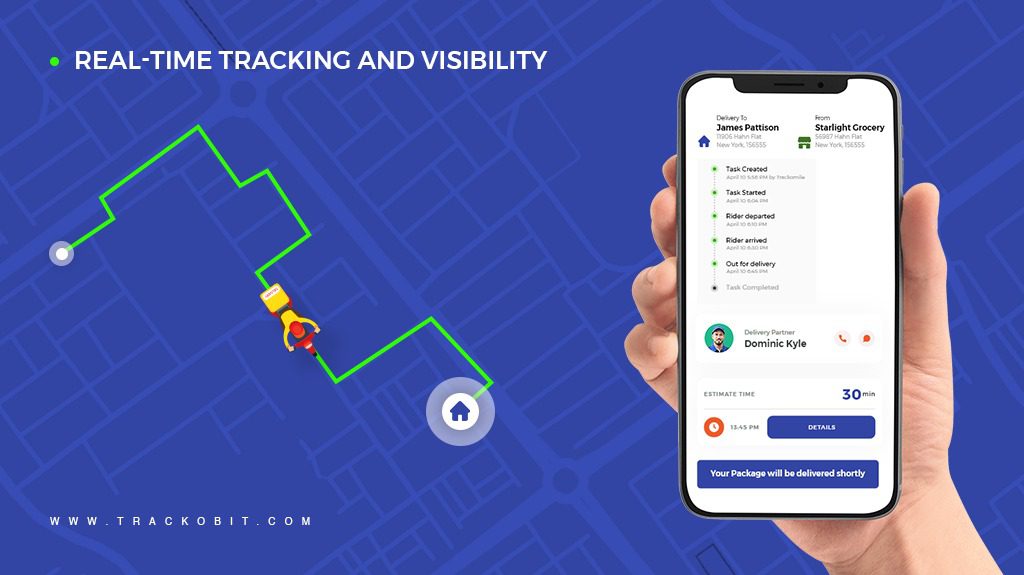 A supply chain business, whether operating 5 vehicles or a fleet of 500 vehicles, definitely needs a bird eye view of each in real-time. It is equivalent to success if a fleet manager can look into each vehicle on a single dashboard at once. 
A full-suite last mile delivery software 2023 is a must to get real-time tracking and visibility of delivery vehicles and assets. This feature will help companies closely monitor the movement of goods, proactively look into issues, and provide accurate delivery estimates to customers.
Optimal Vehicle Utilization & Proactive Maintenance
For a supply chain business, it's a positive sign if their fleet of vehicles is optimally distributed or allocated toward a task. Businesses underutilizing their fleet often end up increasing operational costs and downtime. Whereas, overutilized vehicles are also a threat to businesses as it would reduce the lifespan of their fleet.
Last mile delivery management software allows fleet managers to:
Track vehicle usage to plan their proper allocation

Plan trip schedules in advance for drivers and vehicles

Help determine if they have enough vehicles quantities to fulfill the volume of deliveries
Additionally, the software helps provide service and maintenance reminders, hence keeping unforeseen breakdowns and hefty repair costs at bay. Thus, helping surpass the last mile delivery challenges pertaining to asset allocation and costly repairs.
A well-trained workforce also defines supply chain businesses' success. Businesses that invest in curated training programs for delivery drivers and staff ensures that they have relevant skills to execute deliveries efficiently and professionally.
A fleet management system can help look into delivery executives driving behavior and help organizations curate programs that add to their cognitive skills.
Seamless Communication Among Drivers & Customers
Clear and continuous communication between customers, delivery agents, and the company's support team is crucial to address any issues in ongoing or scheduled delivery. The fleet management system helps all the stakeholders in the supply chain stay connected with each other in real-time.
Attention to Safety & Compliance
An efficient supply chain company is one whose all operational activities are aligned with safety and compliance. Prioritizing safety measures and adhering to industry regulations ensures the well-being of drivers, goods, and customers during the delivery process.
Focused on Continuous Improvement
Businesses are often terrified of making mistakes or mishaps. They fear the anxiety, judgment, and stakes involved. But a true ethical supply chain business is one that approaches learning with a positive mindset.
With vehicle tracking enabling last mile delivery management software, businesses can regularly analyze delivery data, look into customer feedback, and evaluate operational metrics to identify areas for improvement and implement strategies that multiply performance.
Final Thoughts on the Success of Last Mile Delivery 2023
Last-mile delivery is a highly competitive component of the supply chain, which often hinges on accuracy, efficiency and customer satisfaction On-time delivery rates, optimal utilization of a vehicle, less operational costs, and more customer satisfaction are a few factors that determine the success of the supply chain.
For new or established businesses, last-mile delivery management software is the ultimate resort to accurately measure key performance indicators and optimize their delivery operations for more gains.
Last mile delivery companies by leveraging advanced technology would not just fix their bottom line or meet customer expectations better but will also gain a competitive edge in the fast-paced delivery landscape.
Frequently Asked Questions on Last Mile Delivery Management
Q 1. What are Last Mile Delivery Examples?
Ans.  Last-mile delivery is the transportation of goods from a warehouse to customers or retail stores at minimal cost and in the shortest time frame.
Q 2. What are the important KPIs defining the success of last mile delivery companies?
Ans.  Efficient tracking, delivery timeline, status, total outlay, and asset utilization are a few KPIs defining last mile delivery companies' success.
Q 3. How is last-mile delivery success calculated?
Ans. The on-time last-mile delivery rate is one of the greatest ways to acknowledge the company's last-mile delivery success. This rate is the ratio of total orders delivered and the number of arrivals after the promised date.
Q 4. What is the difference between first-mile and last-mile delivery?
Ans. In first-mile delivery operations, products are received from the manufacturer via a courier to a carrier. And in last-mile operations, the products are transferred from warehouses or hubs to final customers or businesses. 
Q 5. What current last mile delivery challenges need attention?
Ans.  Rising costs, delays, unpredicted issues, lack of visibility, inefficient routes, outdated technology, and reverse technology are a few challenges that managers need to look into.