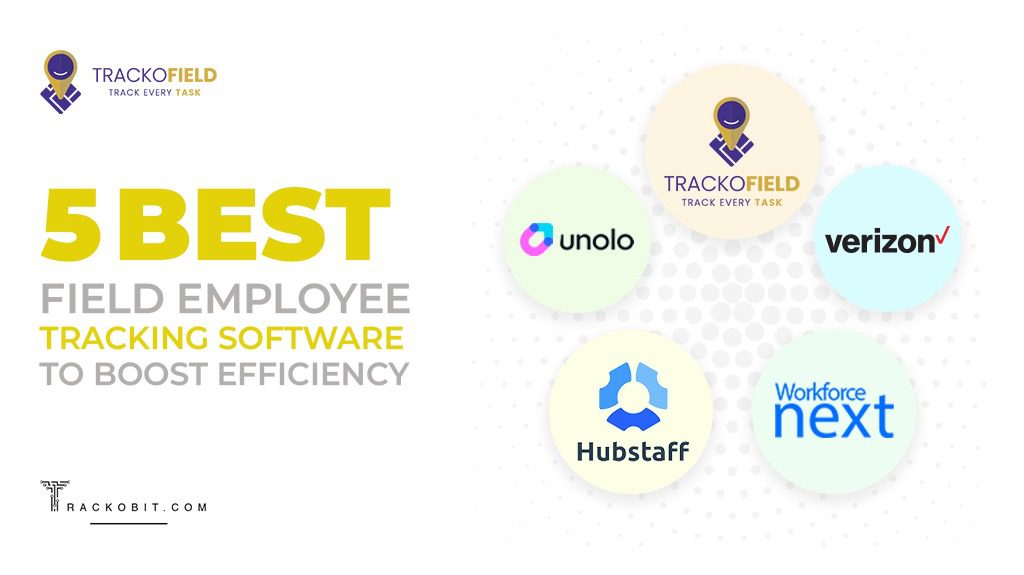 Here is a list of 5 best field employee tracking software to choose from that will help you boost the efficiency of your field workforce and automate field operations.
Only a field staff manager knows how much tears and sweat go into managing and coordinating a team of field employees. Upon that, ensuring and tracking that the field workforce stays relevant and productive while on the field is another Herculean task.
But field employee tracking software is here to help ease the job. The software is an assistant for both managers and field employees as it automates the process. Here is a list of the 5 best field employee tracking software. 
What is a Field Employee Tracking Software?
This software is exactly what its name suggests- a platform for tracking the field workforce. Using the software, managers or supervisors can keep an eye on their remote workforce without extra manual efforts. Doesn't this sound interesting?
The best part of using field force management software is that it is useful both ways for employees and managers. Field employees can report directly on the platform by marking their attendance through the attendance feature. At the same time, the managers can remotely allocate tasks and track employees in real-time. 
Field employee tracking comprises numerous features, all working towards automation, thus eliminating the mundane jobs hogging down the efficiency of the employees.
Best 5 Field Employee Tracking Software We Recommend
Here is a list of top employee monitoring solutions that are sure to help you and your field employees stay efficient on the field.
1. TrackoField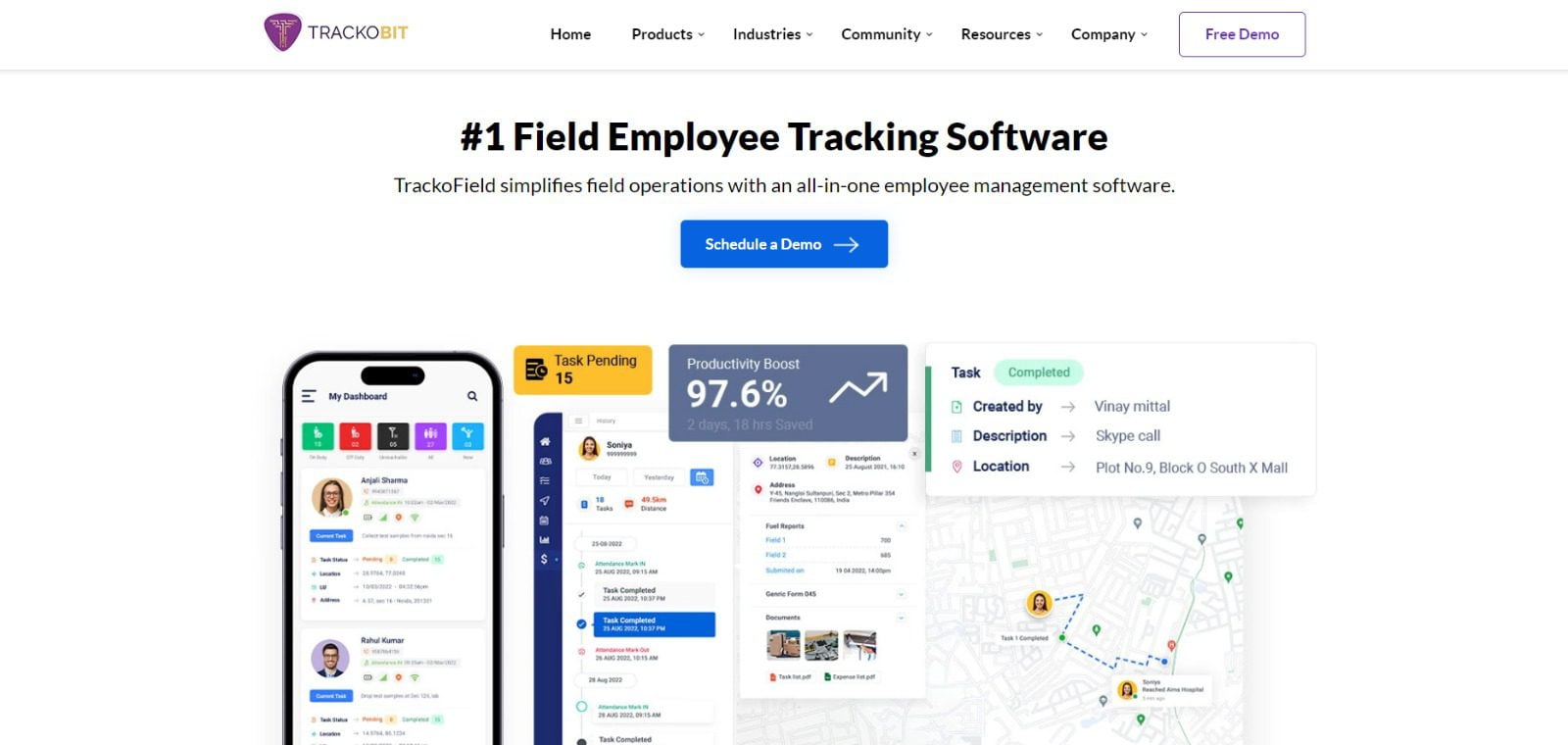 First, we have our show starter, and the one that has been topping the charts for more than half a decade is none other than TrackoField from the house of TrackoBit. With 5+ years of experience, this SaaS company is the prime choice in 30+ countries for monitoring field employees' productivity and efficiency.
Geocoded Attendance Management: To enhance the remoteness of the operation, TrackoField offers geo-sensitive attendance through which the field employees can mark their attendance once they reach their first task location. 
Task Management System: Allocate bulk tasks and form schedules in advance through employee tracking software. Features like group tasks and self-task allocation and creation are also offered.  Managers get real-time updates on tasks and checklist status. 
Live Tracking and Monitoring: TrackoField is famous for its accurate tracking and no downtime. Using the software will let you monitor and track your employees reliably and effortlessly. 
In Built Chat Box: Not only tracking but also maintaining connecting with the field employees is important and for that, TrackoField offers an in-built chatbox in the dual app.

2. Unolo- Stop wondering and Start Tracking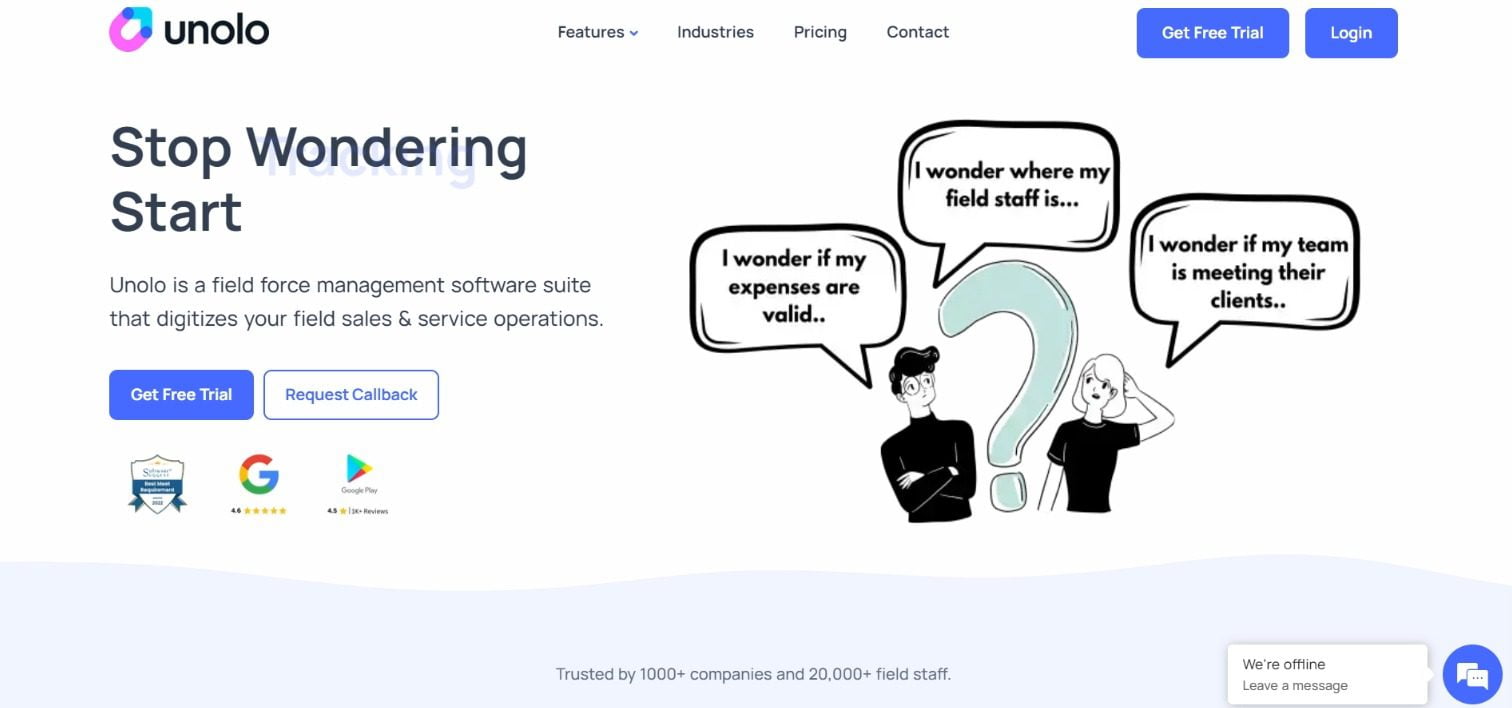 Unolo is a field force management software suite that digitalises field sales and service operations. With features such as GPS employee tracking, sales tracking, location-based attendance geo, verified client visits and intuitive dashboards. Unolo fully automates your workflow in just 10 minutes.
Location Tracking: Keep tabs on the field force's movement with Unolo's proprietary distance calculation system. 
Attendance: A real-time attendance dashboard shows who is working or on leave. Create custom shifts and calculate the working hours of the field force. Also, the software tells how many people are at the work site. 
Client Visits: Verify your team is meeting their clients with geo-tagged photos and OTP verification. 
3. Hubstaff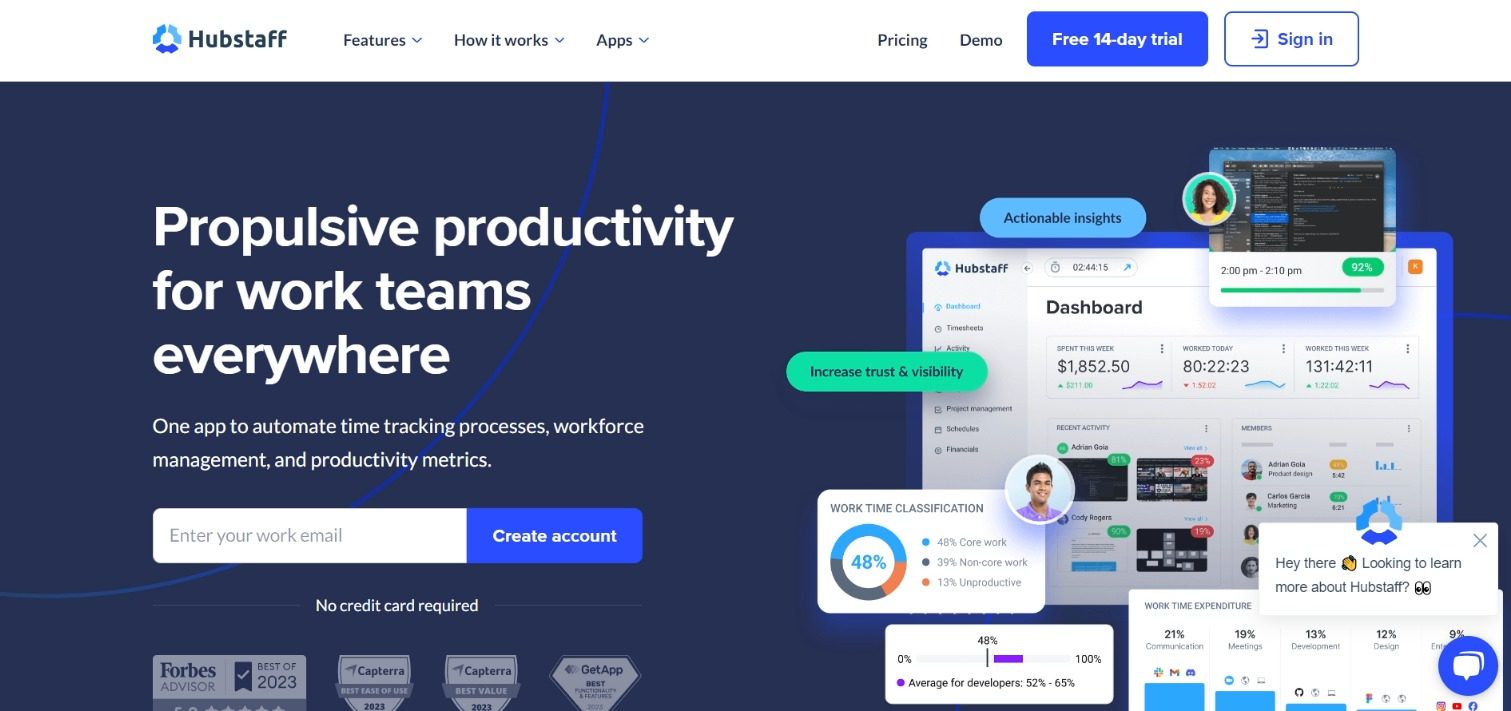 Hubstaff is a popular employee time-tracking and productivity management software that can also be used to track field employees. Hubstaff offers various features that help businesses manage and track their remote or field-based teams effectively:
GPS Location Tracking: Hubstaff allows field employees to clock in and out using their devices and also track their location in real-time. 
Geofencing: Automate clocking in and out, creating work orders and geofencing the radius around the employee location. Also, check the routes taken and teams at work. 
Time Tracking: Hubstaff's time tracking solution is well known for automating timesheet generation based on time entries. Get a detailed breakdown of employee hours by date, client, and project.
4. Verizon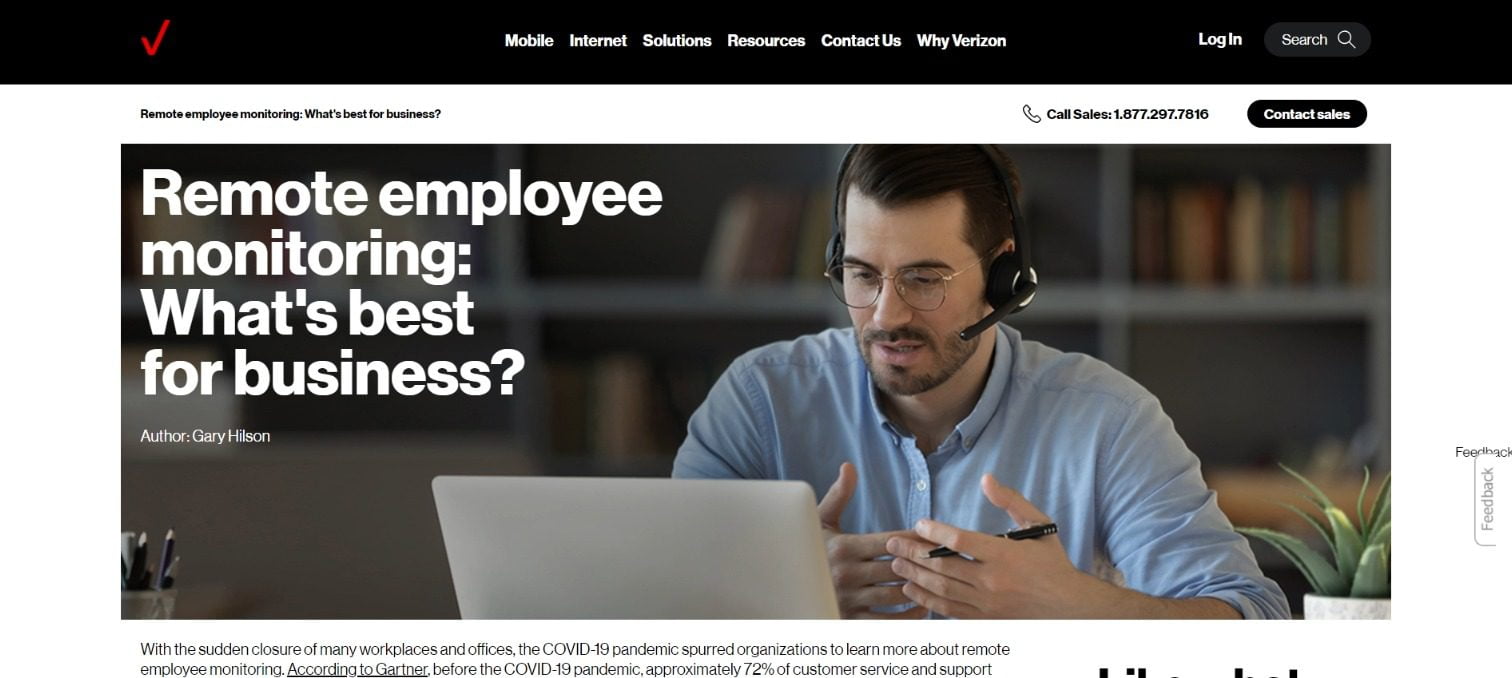 Verizon Connect offers field service management solutions, which can benefit businesses with field employees. The software provides tools and features to help businesses track and manage their field employees efficiently. 
Workforce Management: Verizon's Connect's workforce management solution helps businesses optimise field employee schedules, manage job assignments and ensure equal distribution of tasks. 
Real-time GPS Tracking: Tracking remote employees through real-time GPS tracking allows managers to monitor their location and movement as they do their job. This also helps with route optimisation, improving response time and enhancing efficiency. 
Job Dispatching: The platform enables managers to assign tasks and jobs to field employees based on their location, skills, and availability. This can streamline job allocation and ensure that the right employee is assigned to the right task.
Geofencing: Geofencing allows businesses to create virtual boundaries on a map. Managers can set up geofences around specific areas or job sites, and they'll receive notifications when field employees enter or exit these designated zones.
5. Workforce Next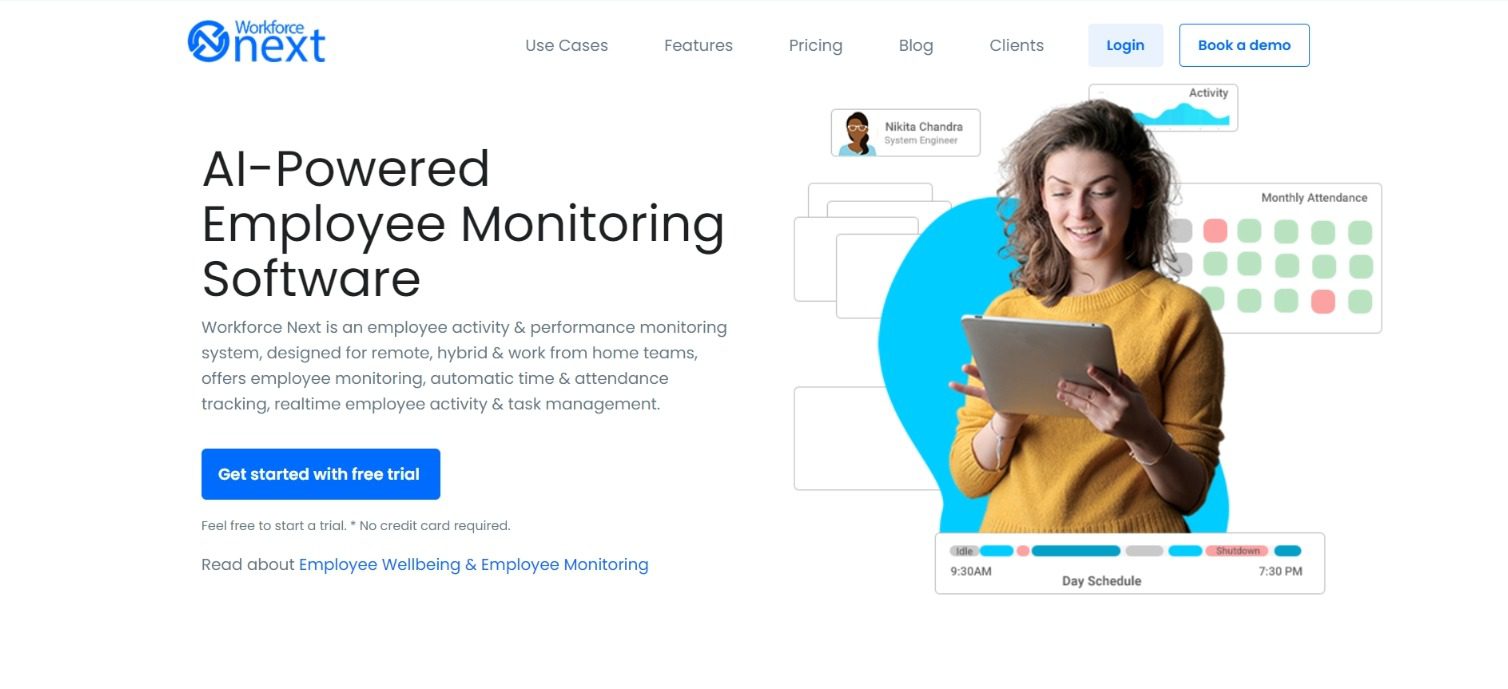 Workforce Next is an India-based employee monitoring company. It is an employee activity and performance monitoring system best for field or remote employees. With its solutions like employee monitoring, automatic attendance and time monitoring and task management software, Workforce Next is set to change the game.
Activity Monitoring: Gain real-time insights into the team's activities, including time spent on tasks. Track task progress, identify bottlenecks and optimise resource allocation. 
Time and Attendance: Workforce Next offers a comprehensive time tracking service that accurately records work hours, simplifies payroll and ensures compliance. 
Tasks Management: Manage tasks and stay organised with the task management feature. Create, assign and track progress in one central hub, ensuring everyone stays on track and deadlines are met. 
And the Best Field Employee Tracking Software is…..
Using the best field employee tracking software lets you be the best on the field. We get it. The choice is tough, and to help you, there is a list to choose from. Using the software is important as it will help bring in the desired visibility and accountability of field employee activities.
TraackoField is an A-grade field employee tracking software. We say this because it offers automated solutions, accurate monitoring and tracking, and the best part is that it can be customised to fulfil every business requirement. 
Schedule a demo now! Contact us Now