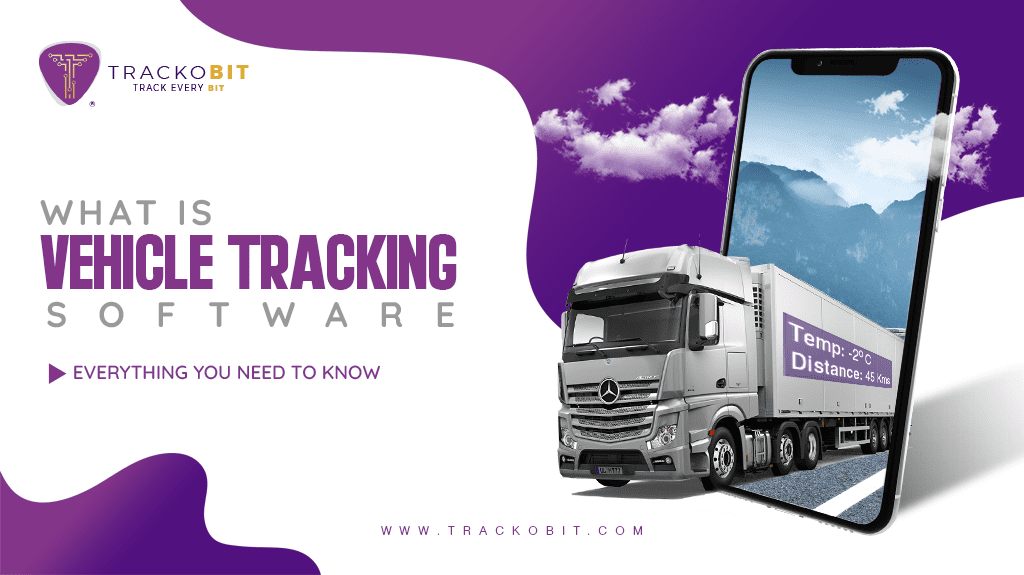 In a highly digitised world, working without vehicle tracking software is like running a marathon with a blindfold. You're bound to hit roadblocks and stumble along the way!
Do you manually manage a fleet and have constant trouble knowing where all your vehicles are? You should consider investing in vehicle tracking software!
The vehicle location tracking device market in the US had reached a value of $600 billion in 2018. However, with the expanding 5G networks, the requirements for effective vehicle tracking systems have only grown.
Learn how to make the most out of your fleet with a vehicle tracking software system through this blog!
What is Vehicle Tracking Software?
Vehicle tracking software, in the simplest of definitions, is a culmination of tools that help managers track vehicles from a distance. Through hardware integration with GPS and software, transporters can get real-time insights into the vehicles' exact lat-long location and other geospatial information.
The primary purpose of GPS for car tracking systems is to get both instantaneous and historical information on a vehicle's location, speed, routes, idling, and stoppage points. While hardware collects this information, the software offers all this information in a neatly packed and digestible format.
Types of Vehicle Tracking Systems
Using vehicle fleet tracking software has become the need of the hour because of the rise in competition and the multitude of vehicle tracking software features available. However, before following the herd, you should know the different types of vehicle tracking systems, so that you can choose the one that suits your needs the most!
Basic GPS Tracking Software:

The foundational type of vehicle tracking system that tracks  real-time location of your fleet's vehicles through GPS technology. These GPS vehicle tracking software are ideal for small businesses looking for cost-effective solutions.

White Label GPS Vehicle Tracking Software:

These are B2B SaaS products of vehicle tracking software companies that develop advanced systems. They then offer these software to clients with custom branding. 

Mobile Fleet Tracking Apps:

Every manager and driver has a smartphone, so many vehicle tracking software providers offer mobile apps. These apps enable you to track and manage your fleet on the go, providing convenience and flexibility.

Personal Vehicle Tracking Software:

These are small vehicle tracking software that are meant to keep only a few vehicles under supervision. They generally come with basic vehicle tracking software features like real-time tracking and geofencing.

Enterprise Vehicle Fleet Tracking Software: These vehicle tracking software are meant to manage large fleets. Integrated with telematics systems, these software offer additional features like route optimization, fuel management, driver behaviour monitoring, and maintenance scheduling.
How Does a Vehicle Tracking Software Work?
For any vehicle fleet tracking software to work, vehicles will need:
Vehicle tracking systems are based on a strong GNSS network that emits electromagnetic signals. These electromagnetic signals are then sent to GPS tracking devices installed in your vehicle. GSM networks help share this information with servers that further connect to the GPS vehicle tracking software that presents the final output to customers.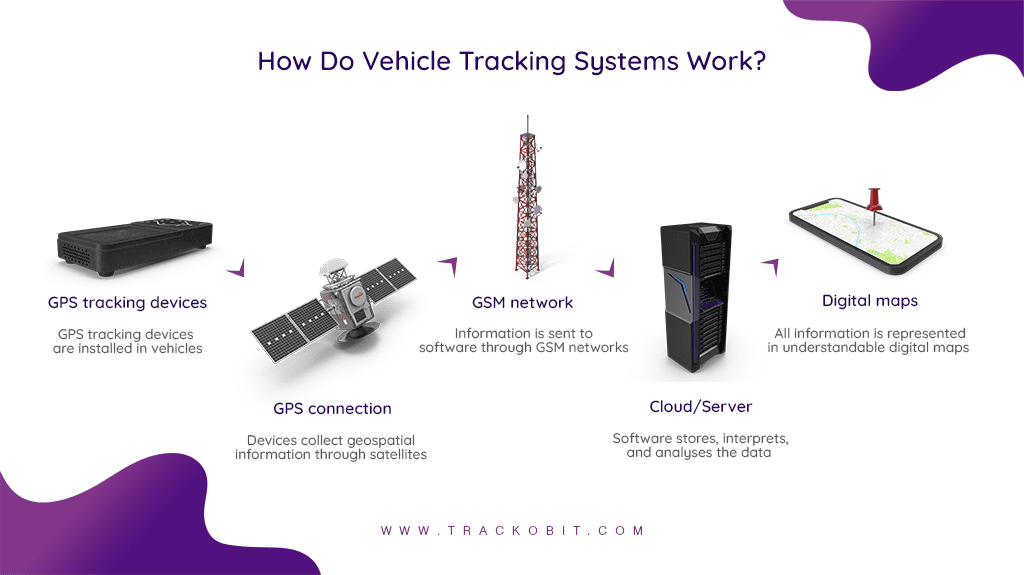 Why Are So Many Businesses Tracking Their Vehicles?
In today's fast-paced world, making fleet-centric business decisions without tracking vehicles is like shooting arrows in the dark when there is a light bulb right there! Vehicle tracking solutions help businesses have a clear view of what is going on in their business, so that they can make better decisions.
Real-time Updates: With an online vehicle tracking system, businesses do not have to take manual updates from their drives anymore. Instead, they get real-time updates of their fleet right from the road.
Vehicle and Consignment Safety:

Since businesses get real-time updates, their response times are massively shortened. Moreover, with additional features such as immobilisation, parking alarms, and elocks, maintaining vehicle and consignment safety becomes easier too.
Insights on Vehicle Performance:

Basic lat-long information can be massaged to get geospatial information such as vehicle speed, idling time, stoppage summaries, and route information. Using this information appropriately helps in effective fleet management.
Read More: How Do GPS Tracking Software Work?
What Are The Benefits Of GPS Vehicle Tracking Systems?
GPS vehicle tracking software offer businesses with valuable tools and sata that help optimise fleet operations, enhance overall efficiency, and reduce costs. So, yes, the benefits of vehicle tracking software are many. Let's explore them in this section.
Enhanced Fleet Visibility:

Software provides a bird's eye view of all your fleet's operations. Therefore, managers can improve coordination, scheduling, and dispatching. Moreover, complete visibility also enables data-driven strategizing.

Improved Efficiency and Productivity: The best vehicle tracking software helps optimise routes, improving mileage and reducing fuel consumption. Tracking vehicles also helps managers allocate resources effectively, ensure timely deliveries, and streamlining operations for increased productivity.
Reduced Operational Costs: Instead of shooting arrows in the dark, managers can build strategies and workflows that help reduce operational costs. Decreased downtime and fuel consumption along with better safety and vehicle maintenance contribute in cutting down operational costs.
Enhanced Customer Service:

Real-time vehicle tracking software allows managers to get a better idea of ETAs and offer more accurate delivery estimates to customers. Improved transparency and reliability lead to enhanced customer satisfaction and loyalty.

Theft Prevention and Asset Recovery: A real-time vehicle tracking software helps prevent theft through instant alerts for unauthorised vehicle movements or deviations. Features like parking alarms and immobilisation ensure vehicles and consignments are safe and supervised. In case of theft, software aids in quick recovery through location tracking.
Improved Driver Performance: GPS fleet tracking solutions monitor driver behaviour and help promote safer driving practices. Managers can identify and address aggressive driving patterns, ensuring the safety of both drivers and the vehicles.

Incidents of idling also never go unnoticed

. 

Maintenance Optimization:

Vehicle tracking software provides insights into vehicle health, allowing proactive maintenance. This plays a huge role in minimising unexpected breakdowns.

Compliance and Accountability:

Software assists businesses in compliance with regulations like hours of service and maintenance requirements. Accurate data records ensure accountability and reduce legal risks associated with non-compliance.
How Do Businesses Use Vehicle Tracking Software(NaviLap) to Track Their Vehicles?
As a vehicle tracking software, NaviLap empowers fleet-centric businesses through visibility and enhanced efficiency. With NaviLap, businesses take control of their fleets and drive success in their operations.
In this section, let's see how businesses leverage NaviLap's features to streamline operations:
Real-Time Tracking:

With NaviLap, managers track their vehicles' precise location in real-time. Therefore, they always have accurate and up-to-date information about their fleet's whereabouts.

Geofencing:

NaviLap allows businesses to set up virtual boundaries (geofences) around specific areas. They receive instant notifications when a vehicle enters or exits these designated zones, helping them monitor and control their fleet's movements.

Historical Route Playback:

The software lets managers review historical data. Therefore, they can analyse past routes to identify inefficiencies, optimise routes, and improve overall fleet performance. Through this data, managers can also track long-term efficiency for their fleet.

Alerts and Notifications:

NaviLap sends automated alerts and notifications to businesses based on predefined triggers. From alerts for speeding and unauthorised vehicle usage to alerts for excessive idling, or maintenance schedules – it is up to the managers to decide supervising which event will help them reach their KPIs efficiently.

Reporting and Analytics:

NaviLap offers detailed and actionable reports and analytics into their fleet's performance. Through these bite-sized reports, managers can analyse metrics such as fuel consumption, driver behaviour, and maintenance records to make data-driven decisions to optimise operations.

Mobile Access:

With NaviLap's mobile app, managers can track and supervise their fleet on the go. Managers and drivers can access real-time information, receive alerts, and perform essential tasks conveniently from their smartphones.

Resource Savings: Small businesses with limited vehicles use NaviLap instead of a larger fleet management software to save resources. With per-vehicle payment models and a coin-based model, businesses have to pay only for what resources they've used.
Know About: What is NaviLap? 
Summing Up
Using vehicle tracking software is a sure-shot way of increasing surveillance and productivity in your fleet. When you associate with the best vehicle tracking software companies, you can bid adieu to constant calls to drivers and anxiety about consignment safety. Always stay ahead of the curve and be omnipresent with your fleet with vehicle fleet tracking software like NaviLap!
Frequently Asked Questions for Vehicle Tracking Software
Q1: How do vehicle tracking systems support enterprise companies?
Ans: The benefits of vehicle tracking software for enterprises are many.
Vehicle tracking systems help them through:
Maintaining complete visibility 

Improving customer service 

Increasing fleet safety

Actionable reports
Features like real-time tracking and geofencing play a huge role in actualising these benefits.
Q2: Why choose Navilap for vehicle tracking services?
Ans: NaviLap stands out among vehicle tracking software companies for its user-friendly interface and exceptional customer support. With real-time tracking historical route playback, and alerts and reporting, NaviLap empowers businesses to streamline operations, and cut operational costs. The mobile app access makes fleet management more accessible on all levels.
Q3: What is the difference between GPS and GPRS?
Ans: For any vehicle tracking software to function at its full capacity, it needs these two integral components:
GPS (Global Positioning System) 

GPRS (General Packet Radio Service)
The difference between the two is that GPS retrieves the precise location coordinates of vehicles while GPRS enables the transmission of data over mobile networks. GPS focuses on positioning and navigation, whereas GPRS allows for real-time communication and data transfer.