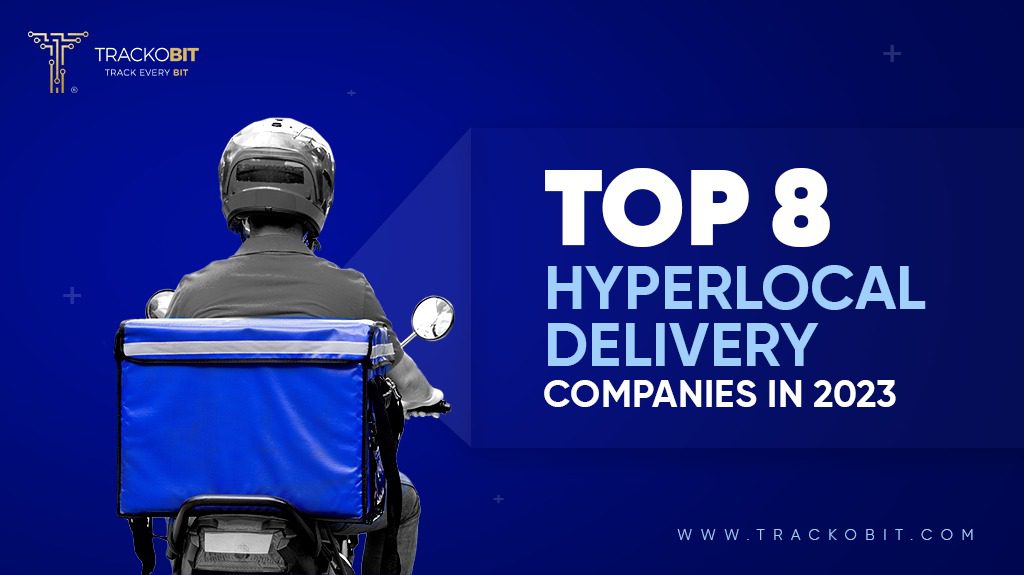 Know which top 8 hyperlocal delivery companies can help you save money and time by keeping last-mile delivery as fast as 10 minutes!
In our fast-paced world,  fast and convenient deliveries have become more crucial than ever. That's where efficient last-mile logistics aka hyperlocal deliveries come in, which makes sure customers are getting orders in the quickest time frame (as quick as 10 minutes — crazy right?).
You must have heard of names like Shadowfax, Dunzo, Bikxie, and Farmers Fresh Zone. They are pioneers in the efficient hyperlocal delivery space, offering right from groceries and household essentials to custom-supply chain solutions and on-demand transportation. These names are redefining delivery hinged with convenience, reliability, and customer satisfaction.
Today, we are going to acknowledge the 8 best hyperlocal delivery heroes that are reshaping last-mile delivery. So before we delve into their unique proposition, let's understand what is hyperlocal delivery first.
What is Hyperlocal Delivery? – Basics First!
Hyperlocal delivery is a specialized delivery service that only a few delivery partners provide. It is performed in stipulated geography to ensure faster delivery or service fulfillment to customers.
It was housing and taxi aggregators like Airbnb and Uber who took the first mover advantage. Now in recent scenarios, multiple vendors have emerged with unique propositions to honour customers' quick demands.
Top hyperlocal delivery companies by leveraging efficient hyperlocal delivery management software are proving to be enormously viable and cost-effective businesses within the eCommerce industry and beyond.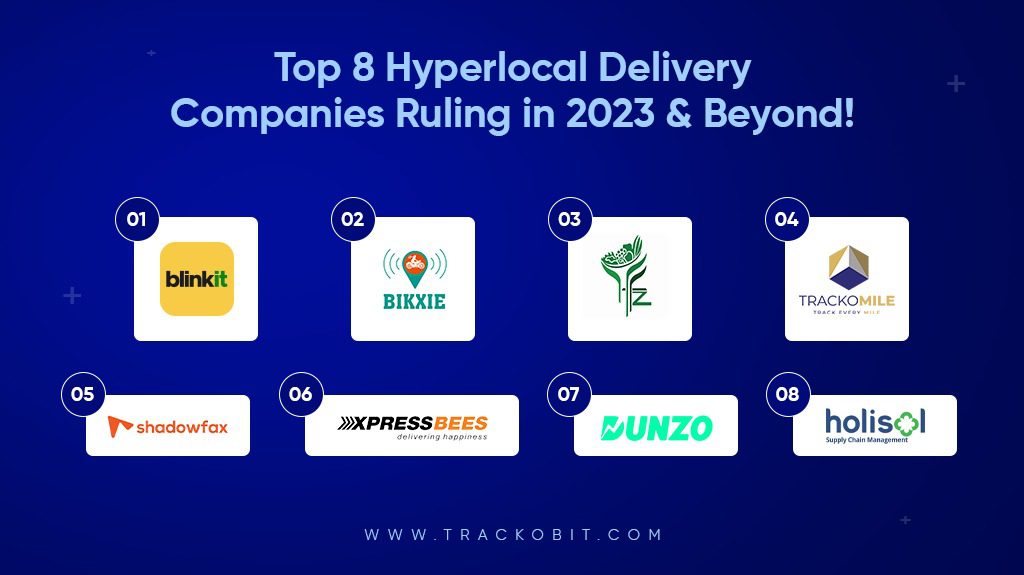 8 Best Hyperlocal Delivery Companies 2023 – Ruling Local Markets Like a Pro!
1. Shadowfax – Best for on-demand delivery services
Founded in 2015, Shadowfax has become a trusted logistics partner for 100+ major Indian eCommerce enterprises. They provide on-demand, reliable transportation options, slot-based same-day delivery, and express hyperlocal delivery, ensuring orders are completed within an impressive 45 minutes. As a result, it is rapidly gaining popularity as the go-to choice for retail deliveries.
What makes it a favourite for retail deliveries are its reliable transportation options and slot-based same-day delivery.
2. TrackoMile – Best Last Mile Delivery Software
Unlike other players on this list, TrackoMile is the hyperlocal delivery software solution for delivery service providers. This final mile delivery software product from the house of TrackoBit comes loaded with custom solutions for enterprises seeking comprehensive solutions.
Founded in 2017, this software company has revolutionsed fleet management, field force automation and delivery-dispatch domain with its future-proof SaaS offerings. Catering to more than 30 countries across 50+ industrial sectors, they have more than 250,000 units on board.
As fast as their last mile delivery software is concerned, some core offers include route optimisation, carrier management, delivery and dispatch automation and rider roaster management.
3. Xpressbees – Best hyperlocal delivery partner of eCommerce
Established in 2015, XpressBees is a leading logistics company specializing in on-demand hyperlocal delivery services for eCommerce. Utilizing SMART transportation and planning, they efficiently manage both B2B and B2C logistics and offer seamless on-demand and same-day delivery services while optimizing hyperlocal eCommerce deliveries.
Fast and reliable deliveries, technology-driven solutions, an extensive network, multiple delivery options, safe & customized logistics, dedicated customer support, and last-mile specialization —- all make it a formidable player in the hyperlocal delivery market. 
4. Dunzo – Best for swift deliveries within the metro cities
Founded in 2014, Dunzo collaborates with over 6000 delivery partners, handling approx. 2 Lakh monthly orders across 7 major metro cities in India. With 37000+ businesses utilizing their efficient hyperlocal delivery services, including renowned brands like Fipola and Blue Tokai, Dunzo ensures swift deliveries within 45 minutes for their invaluable customers.
Dunzo's collaboration with multiple delivery partners and presence across major metro cities has helped it mark an esteemed name for itself.
5. Farmers Fresh Zone – Best farm-to-fork hyperlocal delivery brand
Farmers Fresh Zone (FFZ) is a consumer brand that prioritizes safe and fresh produce through a farm-to-fork supply chain. Empowered by robust technology and a unique business approach, FFZ provides consumers with fresh and safe-to-eat fruits and vegetables. 
By following a "Local farmers producing for local consumption" model and "Demand-driven farming," FFZ ensures improved income for farmers and delivers nutritious & fresh produce to consumers within an impressive 20-hour window from the time of harvest.
FFZ has gained a competitive edge by initiating a farm-to-fork supply chain that ensures fresh and safe-to-eat produce reaches consumers' doorsteps within hours of harvest.
6. Grofers now BlinkIt – Best for 10-minute delivery at your doorsteps
Grofers now BlinkIt, founded in 2013, is India's leading online grocery platform, delivering fresh produce and household essentials to doorsteps. Based on a hyperlocal model, it offers convenience, competitive pricing, and efficient logistics.
Founded by Saurabh Kumar and Albinder Dhindsa, Grofers began as an on-demand local delivery service and evolved into a successful online grocery giant. Currently, by using the hyperlocal model, it partners with local stores and supermarkets for quick deliveries of a wide range of daily groceries and essentials.
A user-friendly app and website, efficient logistics network, and competitive pricing make it a preferred choice for online grocery shopping.
7. Bikxie – Leading bike taxi aggregator
Established in 2016 as a bike-taxi startup, Bikxie has evolved into a prominent hyperlocal delivery and logistics service provider in India. Serving multiple cities and eCommerce companies, its focus remains on Gurugram and Faridabad, with plans for steady expansion.
Bikxie has become a powerful name in the delivery space as a bike (motorbike) taxi aggregator with an ever-expanding service area.
8. Holisollogistics – Best for Tailor-made delivery solutions
Holisol Logistics was founded in June 2009 to deliver tailor-made supply chain solutions. With over 200 dedicated supply chain enthusiasts, 35+ fulfillment centers, and 2 million sq. ft. warehousing space, they are efficiently serving over 20,000 zip codes. They are serving industries like e-grocery, beauty & personal care, healthcare, fashion & apparel, and auto spare parts.
As of now, they have established over 100 hyperlocal fulfillment centers pan India, that too just in a week's time. As a strategy for future expansion, they are planning to open over 8-10 dark stores/month and might reach over 800 dark stores in the next 2 years.
Their customized supply chain solutions with adequate fulfillment centers and an ambitious plan for further expansion make them a key player in the hyperlocal delivery landscape.
Challenges in Hyperlocal Delivery Services
Following complexities makes smooth logistics operations a challenge for dynamic hyperlocal delivery companies.
Poor last-mile connectivity

is still a thing as some regions might not have developed and well-connected infrastructure. Planning detours at short notice becomes a challenge. Route optimization is a must for ensuring smooth journey completion.
Delayed deliveries

are still a concern as long as factors like traffic congestion, unexpected road closures, and high demand during peak hours aren't identified in advance.

Sophisticated routing algorithms, big data analysis, and predictive analysis play a crucial role in ascertaining such cases!
Hyperlocal deliveries entail numerous short-distance trips, potentially less cost-effective than longer ones. Efficiently managing fleets and optimizing delivery routes is essential for companies to minimize

operational costs

.
On-demand Hyperlocal delivery services face

unpredictable demand

, resulting in varying order volumes. Adequate staffing and resource management are crucial for companies to handle these fluctuations efficiently.
Expanding to new locations while maintaining service quality demands strategic planning, resource management, and route optimization at the neighbourhood level, which is not as easy as it may seem.
In the fiercely competitive industrial terrain, innovative offerings and exceptional customer service become imperative to stay ahead of rival players.
Meeting heightened

demands for fast deliverie

s and real-time tracking requires continuous innovation.
Ensuring

safety protocols

for delivery agents and customers is crucial. Also, complying with diverse regulations can be complex.
In response to the evolving industry landscape, companies are embracing innovation and adaptability to resurrect the above challenges in hyperlocal delivery services by delivering highly efficient, customer-centric hyperlocal services.
Checklist for Choosing the Right Hyperlocal Delivery Service!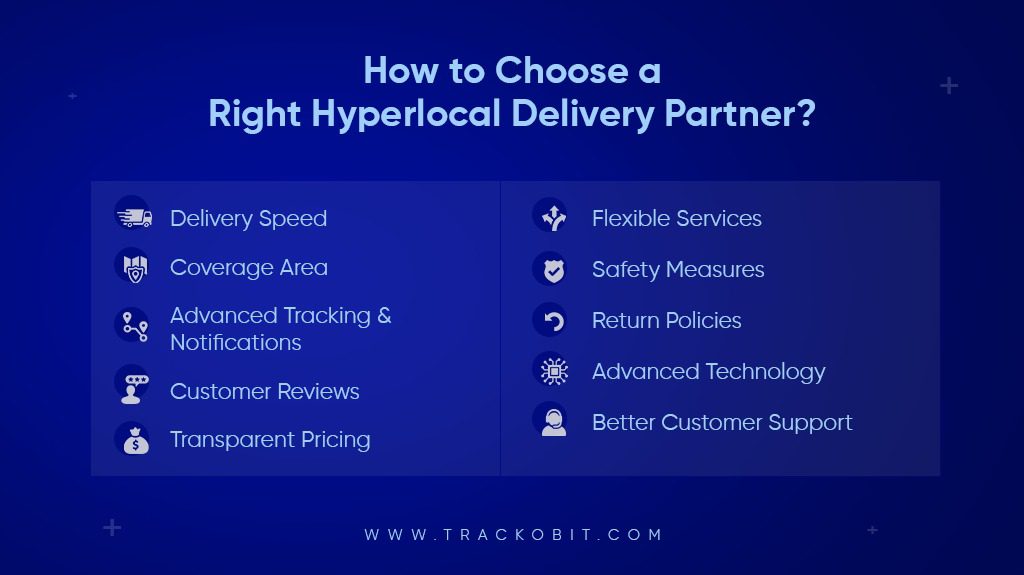 Businesses must seek hyperlocal delivery partners that offer streamlined order delivery followed by timeliness and reliability.
Coverage Area:

Ensure that the hyperlocal delivery service you opt for is covering the specific delivery areas your business requires delivering to.
Delivery Speed:

Look for hyperlocal leaders that offer the fastest, same-day, or next-day deliveries for urgent goods.
Tracking & Notifications:

Opt for a service provider that provides real-time tracking and timely notifications of delivery status.
Customer Reviews:

Check customer reviews and testimonials before engaging with any hyperlocal delivery partner.
Price Transparency:

Look for a service that provides detailed billing information and charges transparent pricing with no hidden fees.
Service Flexibility:

Look for diverse categories like food, groceries, medicines, and more that these delivery partners are into.
Safety Measures:

Ensure that the service provider has stringent security policies and safely delivers the goods while ensuring your customers' trust.
Return Policy:

In case of damaged or incorrect deliveries, make sure the partnered delivery services have a flexible return policy in place.
Advanced Technology & Communication:

Look for a service that has user-friendly apps or websites to facilitate fast order placement with seamless communication between supply chain teams.
Reliability and Timeliness:

Seek delivery partners who are known for reliable and effective order fulfillment.
Support and Customer Service:

Choose a service partner with responsive customer support that addresses customer issues or queries promptly.
Scalability:

If you wish to scale your business in the long run, make sure you collaborate with a delivery partner that has the capacity to accommodate more delivery volumes.
Final Thoughts on Top Hyperlocal Delivery Companies!
The above top 8 hyperlocal delivery companies like Shadowfax, XpressBees, and Dunzo stand as true beacons of efficiency,  innovation, and customer-centricity in the ever-changing landscape of last-mile logistics
With their unique approaches and more customer-focused tech stack,  they have revolutionized operational efficiency and convenience and are setting a high bar for efficient hyperlocal delivery services.
More than that, the other reason why hyperlocal agents are able to streamline deliveries, maximize resources, and elevate customer satisfaction is they trust modern route planning solutions that help them zip through faster routes.