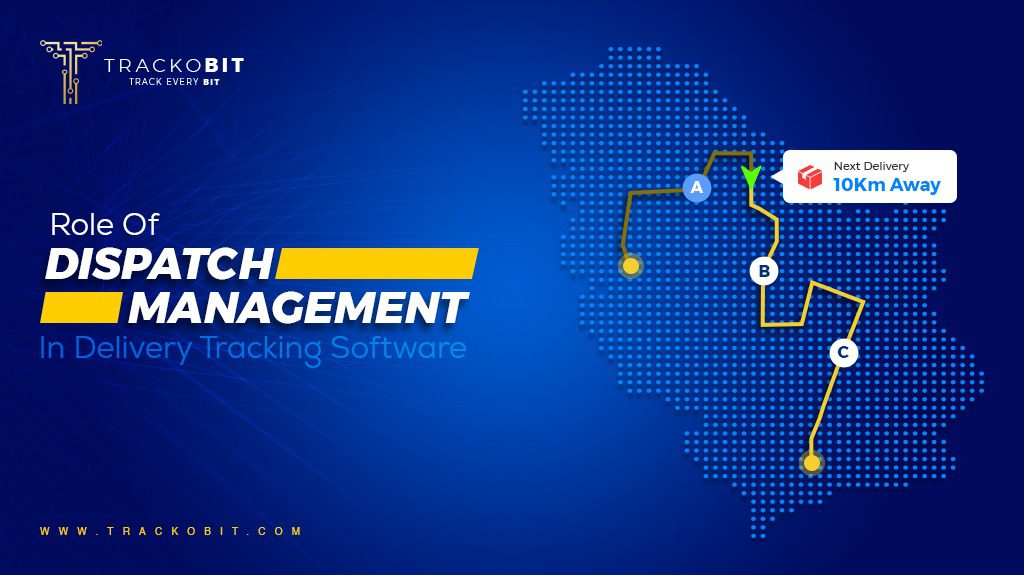 A dispatch manager's job is right in the middle of logistics and customer support. A good dispatch management system can make or break your last mile delivery efforts, so make it count!
To an outsider, a dispatch manager's job seems pretty simple. You just have to oversee that products leave the warehouse on time, right?
But only a dispatch manager would know how difficult it is to be at the intersection of logistics operations and customer experience. If your dispatch management system is not in place, all the rider and vehicle management can go out the window – your deliveries will still be inefficient.
This is exactly why you need a dispatch management software – a one stop solution to help you plan, organise, plan, and strategize deliveries the right way. From work order assignment to roster management and route optimisation – there is nothing that cannot be streamlined!
What Is Dispatch Management?
Dispatch management is planning, scheduling, monitoring, and optimising when and how deliveries leave from a warehouse (or technicians from their current positions).
Unlike popular belief, dispatch management is not just supervising that vehicles leave on time. It is making sure that the right vehicles leave at the right time with the right consignment to the right customer. And the 'right' is much more complex as well – everything needs to be optimised for superior results!
The process is right in the middle of the complex middle-mile delivery and customer service (good and timely deliveries mean good customer service, right?)
The purpose of a dispatch management software is to bring all these segments of dispatch management together and automate them. Issues with managing carriers? Dispatch management software has you covered. Issues with route optimization? Dispatch management systems have your back! 💪
Why is Dispatch Management More Important Than Ever?
Are you wondering why your company even needs dispatch management? If you have splendid customer retention policies and logistical support, why bother with dispatch, right?

Well, that would have been accurate a couple of years ago. But now, dispatch management takes a centre place in last-mile delivery management. With higher customer expectations and a massive boom in competition, the role of a dispatch manager has become high-demanding. Let us explain how: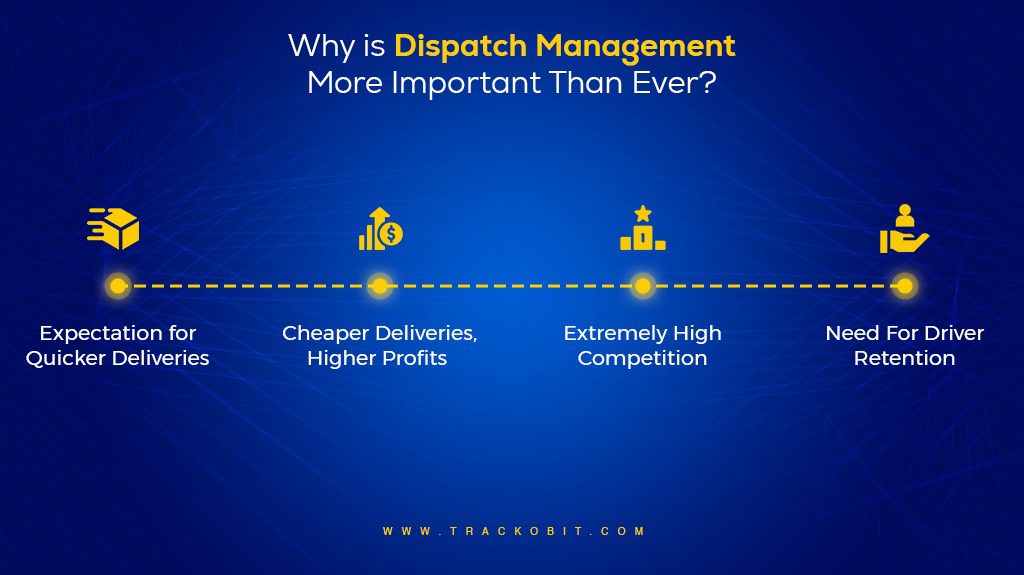 1. Customers Expect Quicker Deliveries 
The delivery world has come a long way from 2-3 day deliveries. We are now at a time when hyperlocal and on-demand have made 8-15 minute deliveries possible. And same-day deliveries are the norm.
In such an environment, customers expect quicker and more convenient deliveries. And for your business to boom, you'd want to deliver beyond expectations, right?
The upsurge in quicker deliveries is one of the primary reasons why you need better dispatch management. After all, even 15 minutes each wasted on 3 deliveries can cost you an entire trip a day!
2. The Cheaper Your Deliveries, the Higher The Profits
Other than quicker deliveries, clients also expect cheaper deliveries. So, here are your two options: 
Offer free delivery to customers (and reduce your profit margins)

Optimise routes and dispatches to ensure cheaper deliveries
Any dispatch manager would choose the latter, won't you?

For that, you will obviously need a dispatch management system that allows automated route optimisation. You will also need optimised operations so that you can spend your time on strategizing cost-cutting methods, not getting caught up in manual operations.
3. If You Don't Fulfil Requirements, Somebody Else Will
The competition is high for last-mile delivery and dispatch management! In this landscape, if you cannot fulfil what the customer needs, somebody else will. And nobody wants to lose business, right?

Use automated systems and optimise deliveries in a way that no competition can touch you!
4. Bad Management Will Drive Employees Away
Employee attrition only increases when you do not have good managerial systems in place. Employees need to save time on route management and planning as well, and a delivery management system helps you do that.

A good dispatch manager will keep the rider roster updated and will optimise deliveries in a way that is most profitable for employees as well!
Read More: How To Master Route Management In 2023
What Are The Benefits of Dispatch Management Software?
Enough with persuading you to use proper dispatch management systems. Now, let us look into some benefits you will surely start seeing rolling in a couple of weeks after you adopt a dispatch management software:

Accurate driver tracking:

The software tracks your employees on the field in real time. Every movement in your delivery system is well accounted for. No need to disrupt operations to take manual updates anymore! 
Efficient productivity tracking:

Not just driver's location tracking! You can also see how well each driver is performing and how many deliveries your entire team can fulfil at any given time. Check how efficient each delivery is – both in terms of time and money! 
Automated scheduling:

Make your operations much quicker by automatically scheduling delivery and dispatches. Each scheduling is done while accounting for each driver and vehicel's capacity and routes to avoid inefficiency. 
Easy multi-stop deliveries:

Planning multi-stop deliveries becomes simple when things are done automatically. The software detects where each driver would be and plans and schedules further tasks accordingly. 
Reduced admin time:

When so many important things in your operations are automated, you are bound to save time on administrative tasks. With so much time in hand, imagine the methods and strategies you can come up with to make operations even better! 
Reduced operational costs:

Dispatch management software is meant to reduce resource consumption. With optimum carrier management and route optimisation, you can massively cut down on operational costs and hence, increase profits!



How Can Dispatch Management Help Increase Efficiency and Optimization?
The answer is loud and clear by now! A good dispatch management system will improve efficiency by:
Cutting operational costs 

Increasing rider productivity

Saving time in the field
And much more!
So, are you ready to experience these benefits first-hand for your business? You should try TrackoMile! Features like route planning and optimisation, automated roster scheduling, and carrier management are sure to take your last mile delivery game from 10 to 100!
Read More: Top 10 Best Last Mile Delivery Software Picks in 2023
Frequently Asked Questions
Still have some questions about what good dispatch management can do? Don't worry, you'll find more answers here!
Q1: What is the dispatch process?
Ans: The dispatch process is the core of a dispatch management system. If you understand that, you will understand what all needs to be optimised! The process involves how your delivery drivers' routes are assigned and structured.
For example, you may have different drivers assigned to different areas of the city. Now, obviously, restricting driver movement rather than sending them across the city will save time and fuel costs. To double down on profits, you will have to optimise routes in a manner that each trip takes less time as well.
Understanding all this is what the dispatch process is.
Good dispatch management prioritises your drivers' deliveries based on their location, allowing them to finish all of their trips in one neighbourhood before moving on to the next.
Q2: What is the purpose of dispatch management?
Ans: The purpose of maintaining good dispatch plans is to ensure that all your deliveries are made on time and are as efficient as possible. Good dispatch management also allows your employees to be less confused and save time on planning, strategizing, and overall operations.
Q3: How can you be a good dispatch manager?
Ans: To be a good dispatch manager, you will have to master the following skills:
Documentation

Communication

Maintaining motivation

Dependability

Multi-tasking

Emotional control

Data analysis 

Strategizing
Mastering all these skills, of course, becomes easier when you have a good dispatch management software that does all the manual tasks for you. Now, you have to focus on using your brain energy and emotional regulation to take responsibility of your team and operations.