It's 2023, the perfect time to master the art of route management by channeling the power of route management software. 
Living in the global era has made the marketplaces, customers, and supply chain borderless. As a result, logistics companies are struggling to fulfill orders and deliver goods in the short time window that the customers provide, be it B2B or D2C. 
Furthermore, logistics businesses are fighting to beat their competition. As a result, logistics companies suffer from higher operational costs. This is causing them to look for ways that help them to cater to their clients and customers seamlessly, along with fighting off the rising costs. The answer is route optimization and management.
Challenges to Route Management
Dispatching your fleet, be it first, mid or last mile, is not an easy task. There exist multiple challenges that the fleet manager has to consider before dispatching. 
One of the most prominent of these challenges is route management. They have to ensure that the assigned route is not only the shortest but also has stops for refueling and ensure that the road conditions are suitable for the fleet.
Multiple Routing Variables
Suppose you plan your fleet's trips manually. In that case, you might be well aware of the massive amount of data and information you need to consider, such as the available drivers, vehicles, carrier capacity, delivery time window, service area, and the cost of operation, to name a few.
Process That Lack Agility
Another challenge that is preventing logistics companies from accomplishing smooth deliveries is the fact that fleet managers have little to no ability to react quickly when an incident occurs in any leg of the logistics. 
The reason is a lack of visibility and necessary tools like AI-driven fleet management software and route management. With the help of optimized software, fleet managers can automate route planning and dispatch. In addition, the system communicates real time updates to both managers and drivers. This means neither of the both will be left scrambling to figure out what to do next. 
Read More: Benefits Of Route Management Solutions In Fleet Business
How is Route Management Optimizing Fleet Operation
Route management solution is the perfect way to streamline delivery operations. It's so perfect that no other option besides this can help companies achieve a cost-effective delivery.
Automation of Route Planning
The best part about adopting route management software is that it automates route planning. Managers no longer need to dig deep for data as the software effortlessly suggests the most efficient route after considering numerous factors. For example, the suggested routes are based on the number of stops, delivery time, ELD, carrier capacity, etc.
Additionally, the software even auto-saves regular trips, thus saving time.
Visualization of Delivery Routes
The fleet management software clearly visualizes the assigned route instead of having drivers trying to decipher the set routes. The system maps the routes rather than just listing the stops, directions, and instructions. It shows precisely where the drivers have to go. 
If anything unexpected happens with either the vehicle or the driver, the manager receives an instant alert and real time update.
Real-Time Alerts
One of the benefits of employing route management software is that it ensures that your fleet trips are cost and time efficient. And it does this by ensuring the drivers follow the suggested routes. Whenever a driver deviates from the path, managers receive real time alerts. 
Also, they can geofence certain stops to receive alerts whenever a vehicle enters and exits those virtual boundaries. This also helps to monitor the fleet.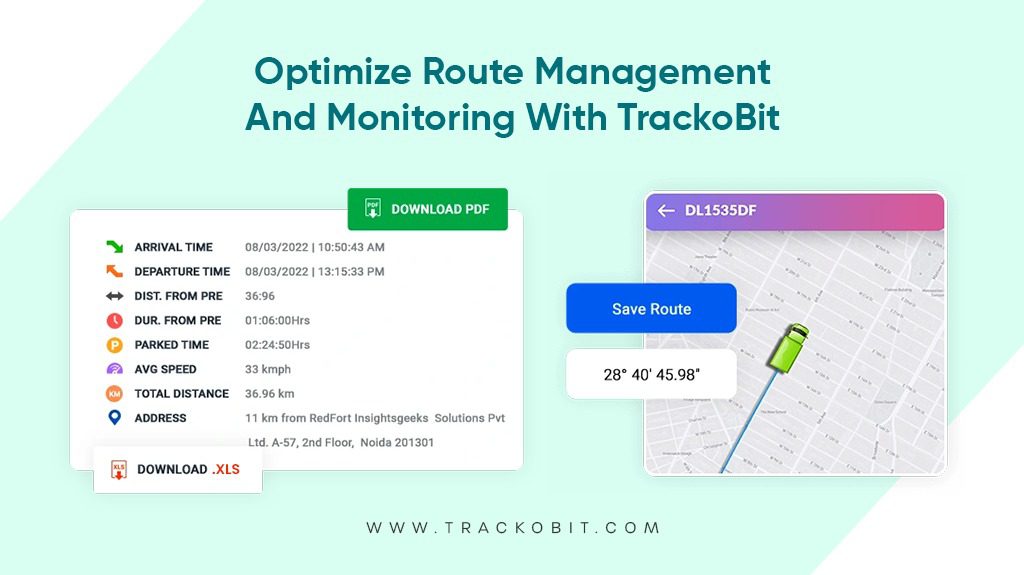 Automated Dispatch for Fleet Drivers
The software allows logistics companies to set pre-defined rules like distance and terrain. On this basis, the software assigns deliveries automatically. It shows the available vehicles and drivers to assign deliveries and trips. The software fully informs the driver exactly where and when to go, along with a route map and other instructions.
Advanced-Data Analytics
Since the route management software is completely automated, it needs to process a bunch of information and data and even record every action of the drivers. This results in accurate measurement of the performance of the vehicle and drivers. In addition, it shows areas that need improvement and decreased costs.
Master The Art of Route Management Today!
Now that you know how helpful route management is, why are you still waiting to invest in one? Is it because you don't want to optimize the cost of trips or automate route planning or ensure on-time deliveries? Or is it that you can't decide which route management software to invest in?
TrackoBit is a perfect choice if you want to invest in fleet management software that will help you at every delivery step.