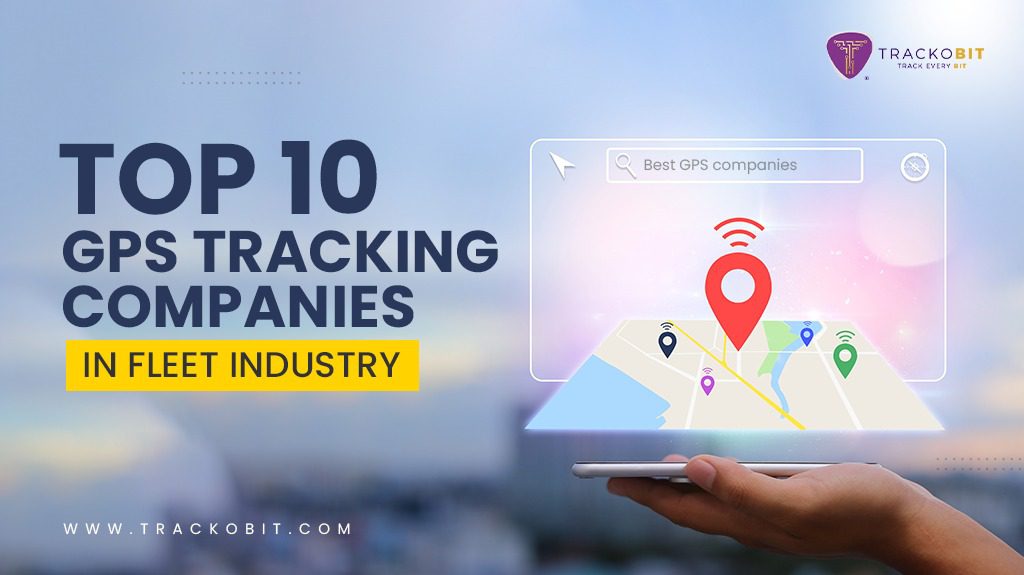 Integrating a trustable system with your fleet operations can be important. But what are the best GPS tracking companies for you to choose from? Let us find out!
The world of automation is on the rise and so is the fleet industry. This is why fleet businesses are looking to GPS tracking companies to provide them with efficiency in the form of a fleet management system. These companies collect and store the fleet's operational data, making optimisation smooth like butter! The boost in visibility also establishes better relations between fleet managers and drivers.
So many advantages? But even more, options to choose from. Looking at the growth potential in the market, several new GPS tracking companies are emerging as competitors. But only a few rule the industry! But do not worry, we have compiled a list of all the top GPS tracking companies in the fleet industry. Browse and choose what suits your requirements the best!
What are the Best GPS Tracking Companies in the Fleet Industry?
Choosing a system that can work wonders and allow you to automate your business operations is very important. But the choice can be tough when the market is saturated with so many systems! Some of the attributes that make a good system are its usability and customer service! Here is a list of brands that have mastered both and taken their system to the next level:
1. TrackoBit
On the top of this list is software that believes in a more holistic approach to fleet management. TrackoBit is a GPS tracking company that allows fleet businesses to eliminate their operational challenges with not only accurate data but also solutions they choose for their system. This is what makes them an industry favourite, businesses taking advantage of the easy-to-use and integrated software with full technical support.
This system is trusted by fleet businesses belonging to various industries to navigate and optimise their operations. From FMCG, and logistics to agriculture and waste collection, this system manages it all. Managers can also use this system to track their vehicle's maintenance schedule and ensure that they stay in top shape for longer. Thus, decreasing their monetary expenditure.
The solutions crafted by their teams for customers include:
Video Telematics
Driver Behaviour Monitoring
Fuel Monitoring
Route Optimisation
Asset Tracking
2. Samsara 
With the aim to increase safety, efficiency, and sustainability in the fleet industry, Samsara has developed GPS tracking software that helps its customers achieve full visibility. The cloud-based GPS tracking system allows managers to make sure that their data is secure and ready for access at all times. This means efficiency is right at the fingertips!
Samsara has been able to build a steady clientele over the years since it was founded in 2015. The teams are working hard to give way to innovation and developing new technology to assist the growing industry trends. This system has also given ways for fleet businesses to adopt the use of dashcams with their system. With these expansions, the company was able to achieve new heights. 
Currently, Samsara is catering its solutions to several industries including:
Food and Beverage Transportation 
Passenger Transit
Inside Campus Commute
3. Teltonika 
Often called the best GPS tracking hardware provider, Teltomika innovates the industry one device at a time. Their R&D teams work to develop products that are reliable and cheap, making them widely accessible to all kinds of fleet businesses. This perfectly aligns with the goals of a founder that wants to make this brand a global leader in the fleet industry.
Teltonika is popular for its easy-to-use products that make installation and use of its GPS trackers very easy. With safety as a major concern for this company, their products are tamper-proof so that fleet businesses are able to maintain accuracy for their operations. Some of the products widely used in the market include:
4. Jimi IoT 
Stemming from China, Jimi IoT is one of the most trusted brands in the fleet industry. As a leading GPS tracker manufacturer, this company delivers some of the most reliable products. These products are developed keeping being mindful of the needs of the industry demands. This has led to a wide catalogue of products with different purposes and connectivity options. 
The products that Jimi IoT has to offer help fleet managers collect data and work to optimise their operations. Location-based commercial tracking has been the aim behind starting Jimi IoT since the very beginning and it is safe to say that it has succeeded in providing businesses with exactly that! Some of the widely adopted products that Jimin IoT manufacturers are:

5. Fleetio 
The market for fleet management systems is a competitive space but Fleetio has been a name staple in all top lists. They provide businesses with all the options they might need to automate their operations. Thus, no room for inaccuracy leading that might disrupt your fleet operations in many ways.
Feetio prioritises your vehicle's health, always streamlining your maintenance schedule. Thus, happy fleets will always give way to profitability! Some of the solutions that the company is known for include:
Vehicle tracking
Report generation
Fuel monitoring
6. Navixy 
Navixy is a GPS tracking software that claims to eliminate any kind of errors that might plague a fleet's operations. They have a driver journal that makes the management of contracted drivers a piece of cake. Want to streamline the reimbursement process of drivers getting paid for the distance they cover during tasks, this solution has your back!
The system comes with some suggested hardware products that when paired together can make your planning, tracking and scheduling so simple. Navixy also has several other features that can help fleet amusement make better use of their investment. 
7. Gurtam – Wialon 
Gurtam is a leading name in the fleet industry, amongst the known GPS tracking companies. Their fleet management system named Wialon is recognised in the market for its high-quality products. businesses have been able to use this software and see results that helped them in the long run. Thus, a good investment for up-and-coming fleet businesses.
The fuel consumption calculator algorithm is what sets this system apart from all others. Thus, giving it a place in the top 10 GPS tracking companies. This system is used in industries like agriculture, construction and so on. 
8. Queclink 
Queclink channels its focus on empowering businesses to achieve accurate data by designing their original IoT solutions. They are constantly looking for opportunities to grow and develop technology that can make GPS tracking a simpler process.
Maybe it is this drive to keep changing with the evolving times that helps Queclink to be considered one of the best GPS tracking companies in the market. They manufacture products that are long-lasting and easy to customise with fleet operations.  
It is their client-centric ideology that has helped them gain the trust of so many customers. Their large clientele can vouch for their high quality and easy-to-use products. Thus, vehicle tracking becomes simple! Some of the widely used products by Queclink are:
GV50 Series 
GV57 Series 
GV300 Series
9. MapOn
Founded in 2006, MapOn is considered a top GPS tracking company because of its customer-prioritising attitude. The team behind the development of this system has the goal to make their interface user-friendly and accurate. Falling short of your fleet management goals is not a problem when you have invested in MapOn's fleet management software.
MapOn has expanded its market to several countries, making it an internationally trusted brand name. Its clients all vouch for MapOn's user-friendly approach to software development which declutters the planning and optimisations process by a lot. The solutions that this system has to offer include:
Temperature monitoring
Fleet maintenance
Fuel optimisation
Data collection and compilation
10. Ruptela
Ruptela as a brand is known for its high-quality products. They started in Lithuania and slowly but steadily expanded their brand to countries like Mexico and UAE. This growth is possible because they prioritised their innovative thinking and made sure that fleet businesses had choices for their GPS tracking hardware. No two businesses operate the same after all.   
Ruptela made a name for itself in the industry by making sure that they always pay attention to its customer's feedback and work on improvements. Some of the GPS trackers that are attested by the industry for their high performance include:     
FM ECO4 light · 
HCV5 
FM ECO4+ 

Conclusion
Choosing The ONE from so many GPS tracking companies can be daunting. But it is very important to pay mind to your requirements and understand where your existing operational issues lie. It is only then you will be able to match the solutions offered by GPS tracking software to your challenges.
Fleet managers are also responsible for choosing a system that will not weigh down their business' pockets. Tus there is no choice that is a right or wrong but personal preference. What works or your fleet business might not be the best choice for a business that belongs to a different industry with a unique set of challenges. So we hope that you have been able to select software from the above list that is suitable to your plans, both economical and operational.