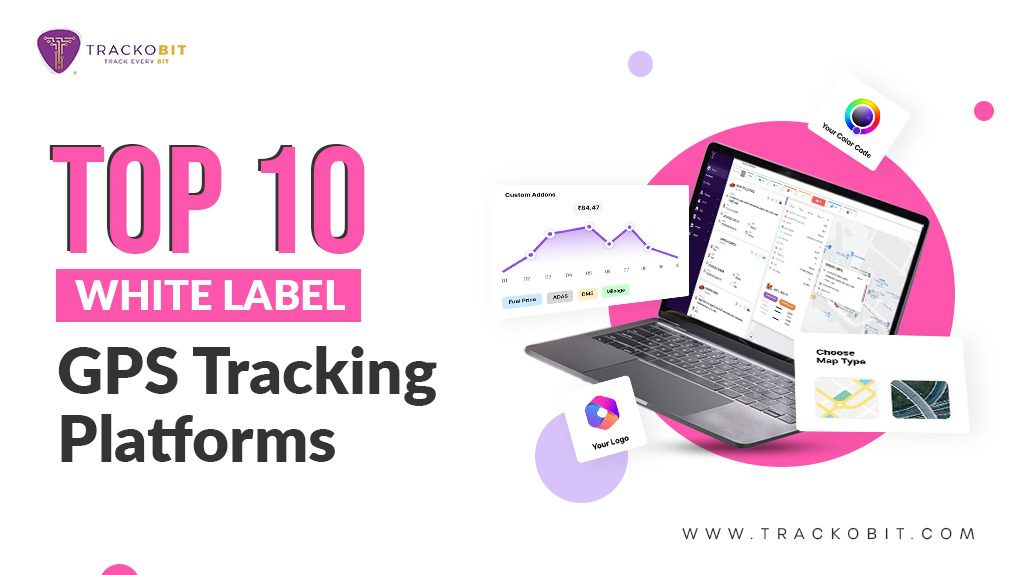 You do not have to dive into the ocean of GPS Tracking software to find the best. We have collated a list of the top 10 white label GPS tracking platforms for you. Check it out! 
With the rising demands of consumers, the scope for opportunities is widening for every industry and sector. No wonder technology has optimised growth and scalability for industries, yet, only a handful of companies show a significant growth trajectory. 
GPS Tracking software solutions are paving the way for logistics, transport and various fleet companies to accelerate their growth. However, some small, medium and in fact large enterprises too, are unable to manifold the profits, unlike their competitors. So, where are they going wrong? 
Okay, let us spill the secret for you!  Only those who make the best use of data, automation, and technology at hand stay ahead of the curve.
Myth Buster
Not every software is a data-garnering machine. Neither can a plethora of data alone help you scale and optimise. It requires advanced-level data analysis and processing to deduce insights. 
What is a White Label GPS Tracking Platform?
We assume that you are aware of the concept of GPS tracking software solutions. The software companies that create the original GPS Tracking Platform allow the service providers to brand and customise the tracking platform as their own. This is called the white labelling of the software.
The best part is the service providers do not have to develop the underlying technology or the software from scratch. White-label GPS tracking platforms allow service providers to enter the market without a hefty upfront investment in technology development. They can rather invest all the money, time, and effort in branding and marketing their core services.
Who Can Use White Label GPS Tracking Platform?
Primarily a white-label GPS tracking software platform is for businesses that offer GPS tracking solutions and services to transporters or fleet owners. Also, logistics companies, freight forwarders, and big fleet wonders can harness the benefits of white-label GPS tracking systems. 
However, if we have to segregate the niche audience of the white label GPS tracking platform, we can segment them into three categories.
New Entrants in the GPS Tracking Service Industry
These are the entrepreneurs who are entering the GPS Tracking Solutions providers. They may or may not bring the experience of venturing into other similar segments such as camera and surveillance, GPS trackers distributors etc. Now they are willing to expand into the GPS tracking solutions segment too.
White label GPS tracking system is the best option for both new business owners as well as ones who are planning to expand. 
For new businesses, it offers a good opportunity for branding and marketing themselves. Customers and users would remember them by their catchy brand logos, colours, and themes. 
Those who are planning on expanding into a newer segment can leverage their existing brand image to establish an identity for their new brand with white label GPS tracking software. People would recognise this new product by their old logo and signature theme. 
Traditional Transporters and Fleet Owners
Family-owned businesses that have a long-established brand value and an unwavering customer base shall go for white label GPS tracking platforms. This not only helps them capitalise on their existing brand image but also, speaks volumes about their brand's progressive attitude. 
It's about time that big and small fleet owners must move to digitisation and automation, yet there are some laggard clients that are uptight about the change. Going for a white-label GPS tracking system would encourage them to take the plunge with you. Hence, they would not only continue their relationship with you but also stay for longer as this would definitely prove fruitful for them too. 
Big Players in The Business
There are many big players in the logistics, 3PL, fleet and freight industries who do not consider information technology as their forte hence, take external support for software-related services. For such companies, having a GPS tracking software platform in their own brand name is a must. 
The bigger the brand, the bigger the user or client base, and the more significant it becomes for such a company to invest in a white label GPS tracking system. Why? 
They lose out on the free and the most effective medium to brand themselves.

They are paying the third party for the services and promoting them too. 
Duh! This would be the last thing expected from a big and established brand. 
Top 10 White Label GPS Tracking Platforms
Now, without beating the bush of words, let's come straight to the most anticipated segment. Yes, we have diligently curated a list of the best white-label GPS tracking software systems.
1. TrackoBit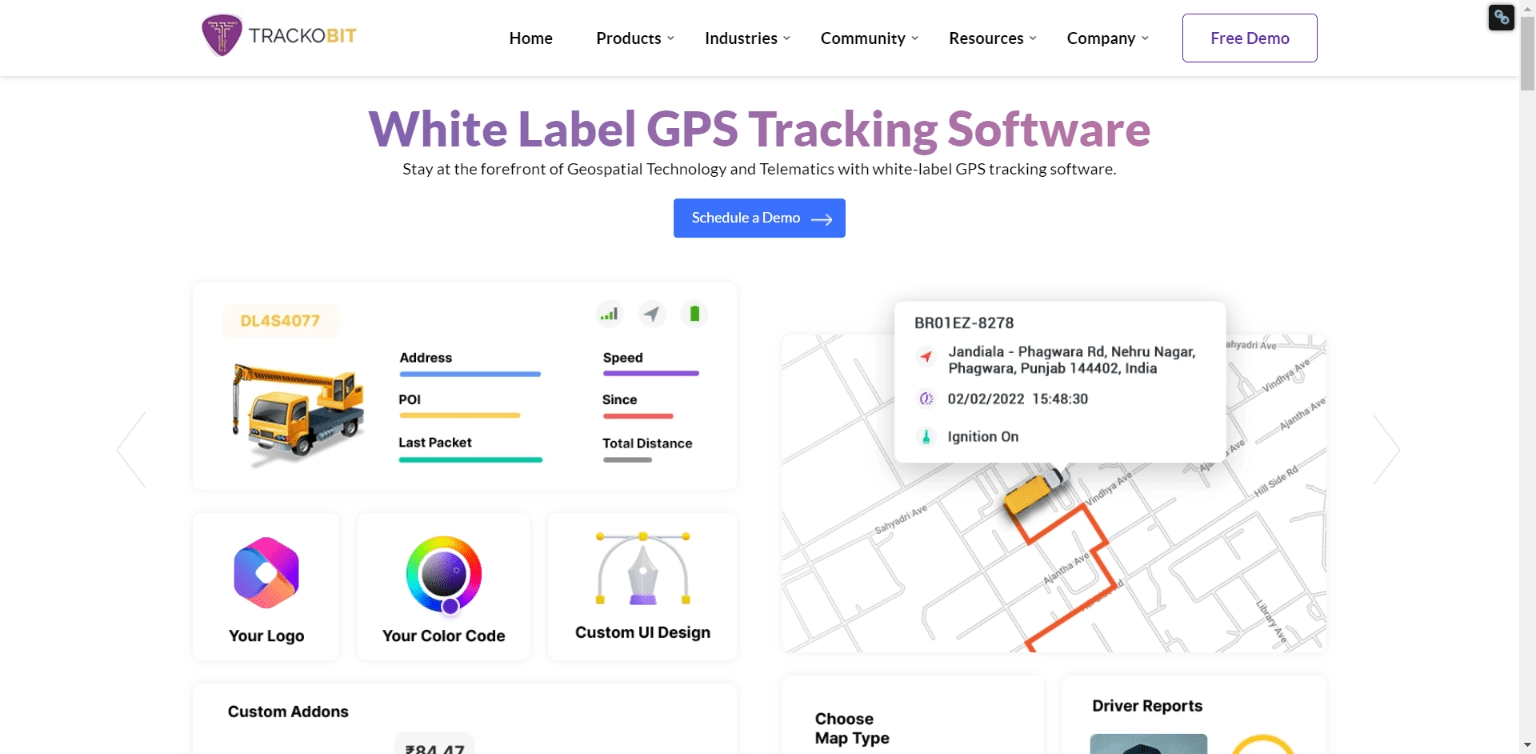 TrackoBit has made a significant name and place in the advanced GPS tracking software market in a very short span. With their top-notch accuracy, seamless UI/UX, and diverse pool of solutions they instantly have become the most talked about and trusted software brands in the telematics, fleet management, and geo-tracking space.
They launched TrackoField at GITEX 2021 in Dubai and TrackoMile, the last mile delivery software at Expo Seguridad 2023 in Mexico City. Their consistency in introducing a new product every year, upgraded modules every quarter, and a new update every month says volumes about their technological capacity. 
Other than providing custom SaaS products, they also specialise in geospatial analytics and locational data science.
Company Name

InsightGeeks Solutions Private Limited

Founded

2018

Headquarters

Noida, India

Products & Services
TrackoBit(Fleet Management Software)

TarckoField(Field Employee Tracking Software)

TrackoMile(Last Mile Delivery Management Software)
2. GPSWOX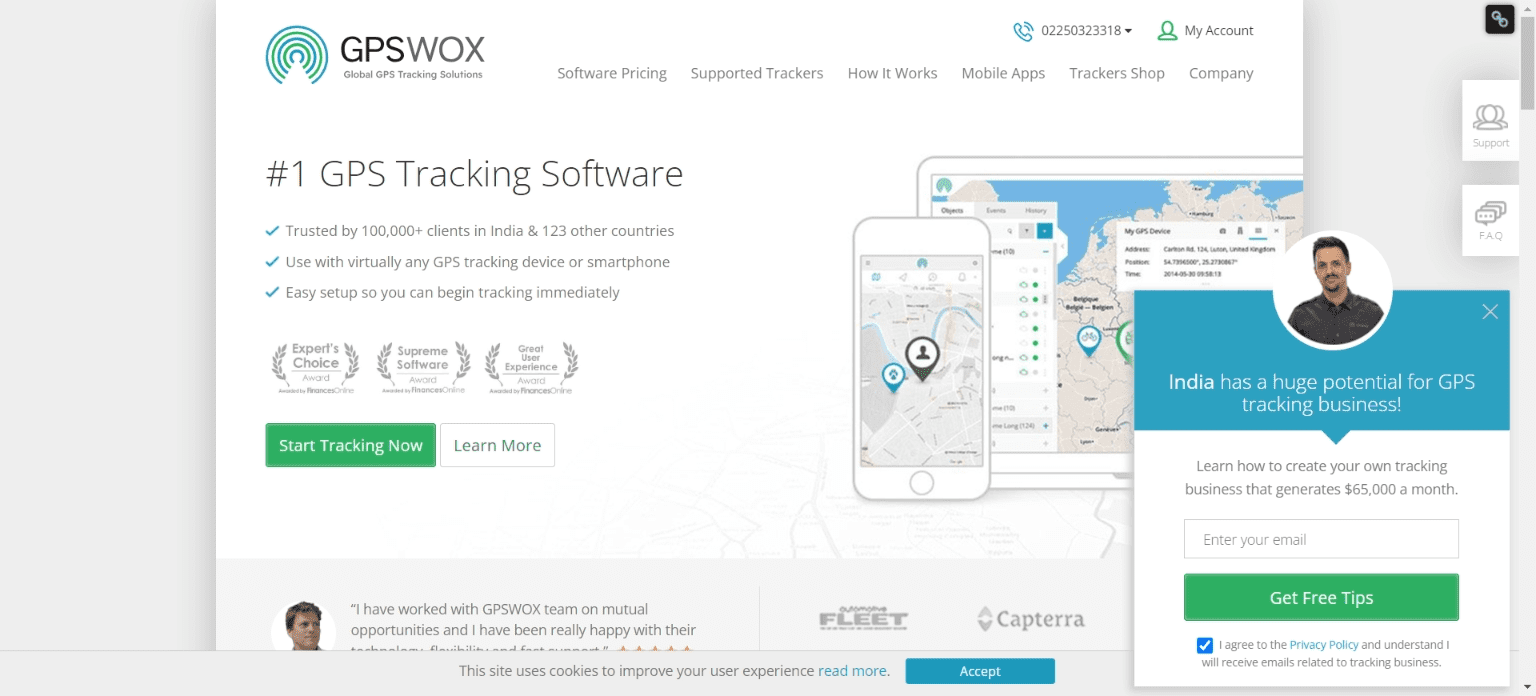 This London based GPS tracking software company has been in the market for almost a decade and established a brand name for itself. They have their development office in Lithuania. They primarily deal in the GPS and navigation space. They have a dedicated wing for providing GPS server services. 
GPSWOX provides a white-label GPS tracking system to B2B clientage and offers personal tracking solutions to the B2C space. They offer complete tracking solutions for cars, trucks, bikes, vessels, and cargo. 
They draw most of their clientage from European and Asian countries such as Indonesia, India, the UK and others.
Company Name

GPSWOX Limited

Founded

2014

Headquarters

London, United Kingdom

Products & Services

GPS Tracking Technologies

Navigation Products and Services, 

Telematics Software and App
3. MapOn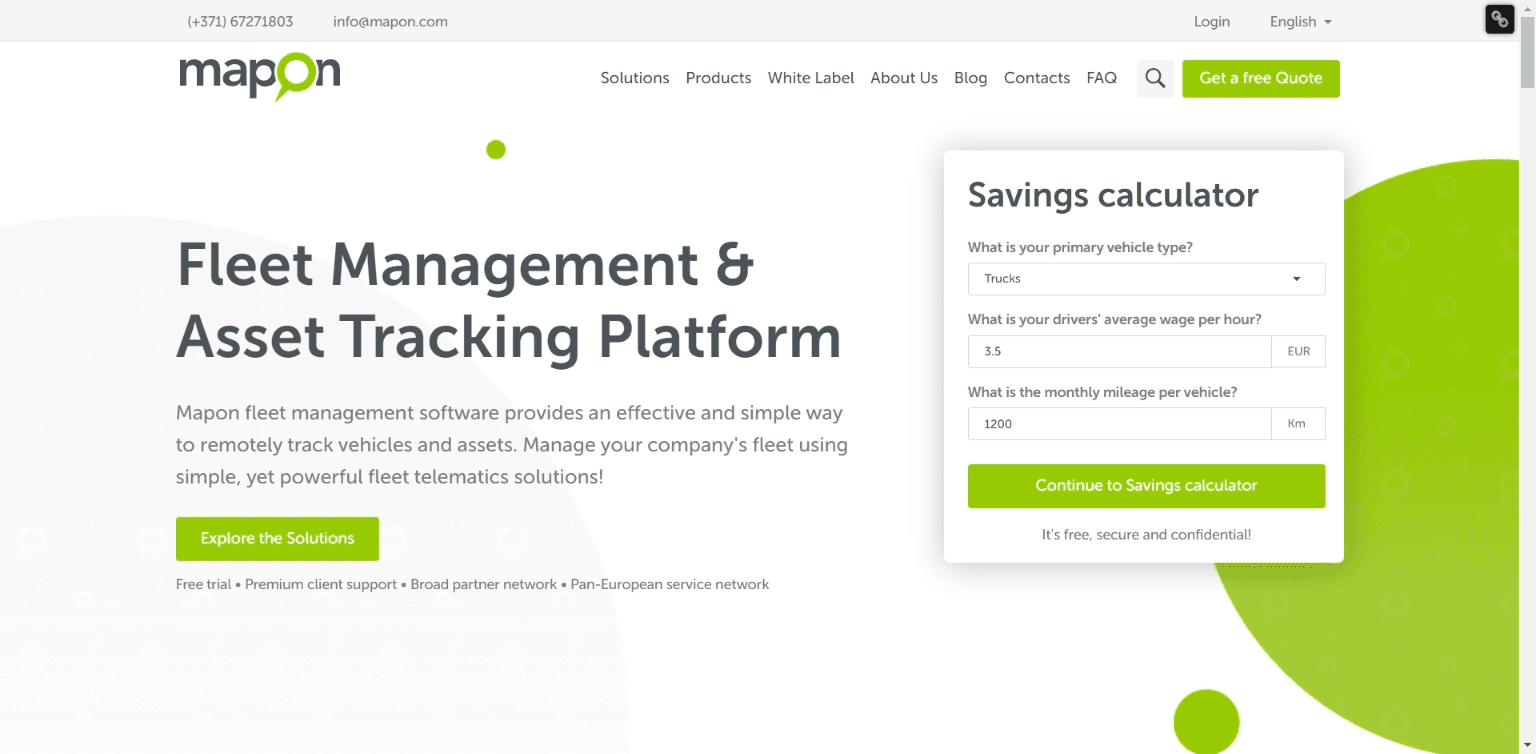 MapOn is one of the popular GPS tracking software companies headquartered in Latvia. They have offices across the globe including Lithuania, Estonia, Finland, Denmark, and Spain. MapOn is a celebrated name in the European, American and some parts of the African market. 
They offer multiple solutions and modules in the fleet management space including asset tracking, driver behaviour monitoring, digital tachograph solutions and many more. 
Do they offer white-label GPS tracking solutions? Of course, they do. As far as their fleet management solutions are concerned, they have a very niche but a very gripped clientage.
Company Name

Draugiem Group

Founded

2006

Headquarters

Riga, Latvia

Products & Services

MapOn Pro (Fleet Management and Asset Tracking Software)

MapOn Mobile Tracker (Mobile phone tracking app)

Tachogram (Digital Tachograph Solution)

MapOn Expert(GPS Tracking Devices Service)
4. Geotab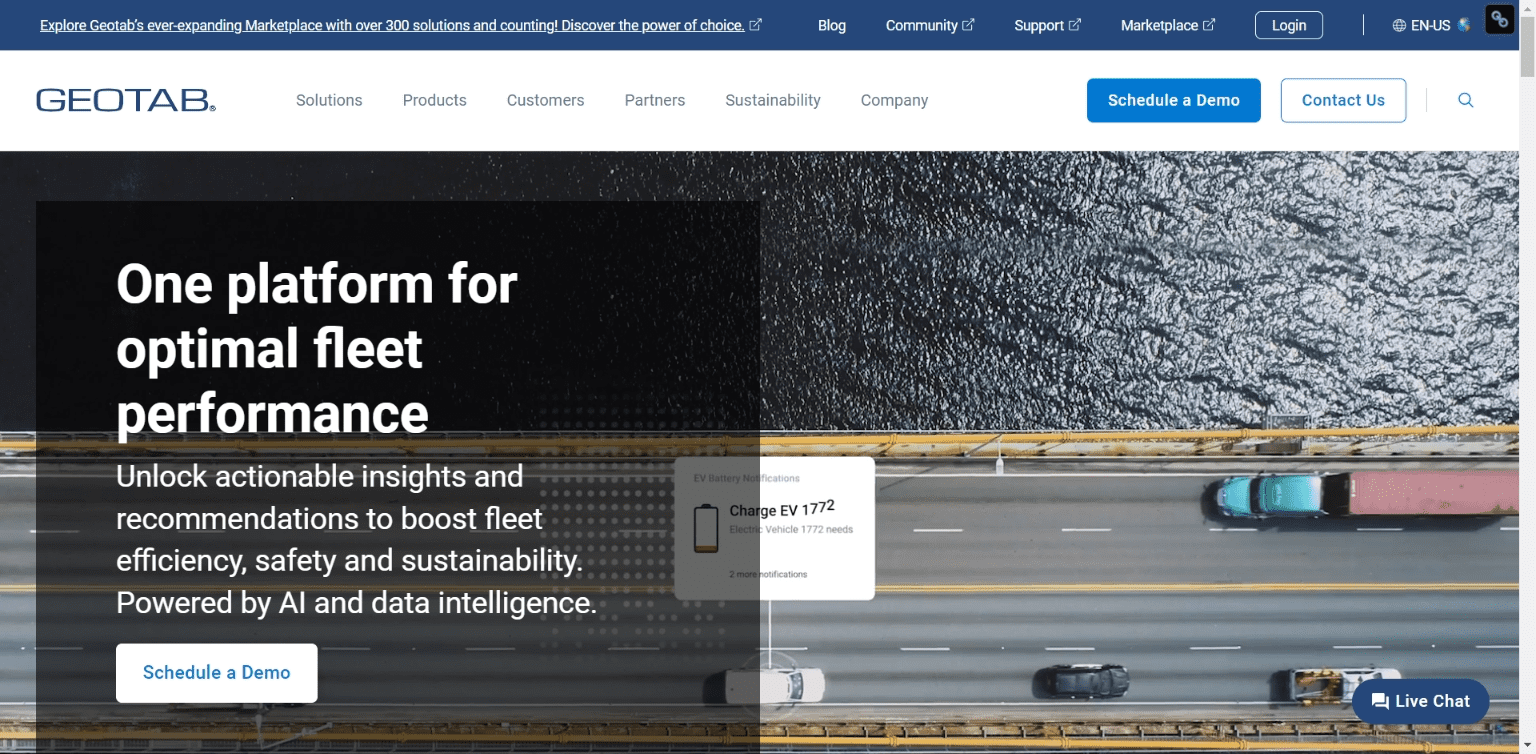 Geotab is one of the global leaders in mobility solutions. They provide new-age telematics software solutions including vehicle tracking, asset monitoring, and fleet management. They segment their software services into five primary categories – Productivity, Safety, Optimisation, Sustainability, and Compliance. 
In the last two decades, Geotab has expanded to more than 100 countries with a customer base of 47,000. Geotab offers an open platform and a marketplace where end users can purchase APIs and SDKs to integrate with their software solutions. 
Their marketplace offers multiple GPS tracking solutions ranging from in-vehicle dashcams, temperature monitoring solutions, tyre pressure monitoring systems and other third-party integration options.
| | |
| --- | --- |
| Company Name | Geotab Inc. |
| Founded | 2000 |
| Headquarters | Oakville, Ontario |
| Products & Services | Fleet Management Software, Video Telematics, Developer SDKs and APIs |
5. Wialon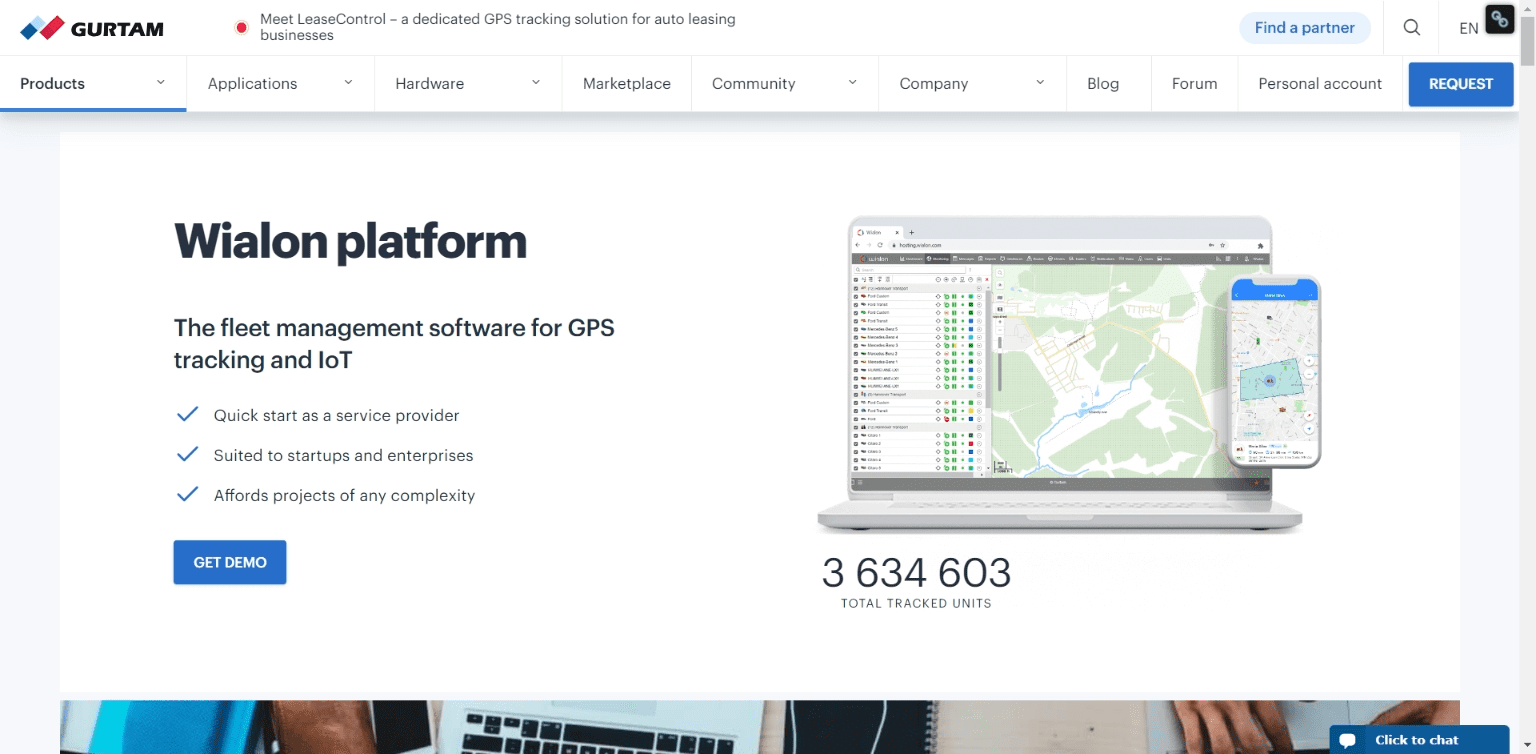 Wialon is the fleet management software from the house of Gurtan, one of the pioneers in the telematics segment. They offer several products in the GPS tracking and IoT space. 
This Lithuanian company has offices across continents including cosmopolitans like Boston, Dubai, Buenos Aires and Tbilisi. Gurtam has established a good hold on the European, Asian and African markets in the last two decades, by virtue of first mover advantage.
Similar to Geotab, Wialon also provides APIs for solutions-based services to its partners. Their marketplace offers solutions for agriculture telematics, delivery monitoring, and maintenance management. Flespi and Wialon are the most popular products from the Gurtam Suite.
Company Name

Gurtam

Founded

2002

Headquarters

Vilnius, Lithuania

Products & Services

Wialon

Flespi

GPS Trace

LeaseControl
6. Ituran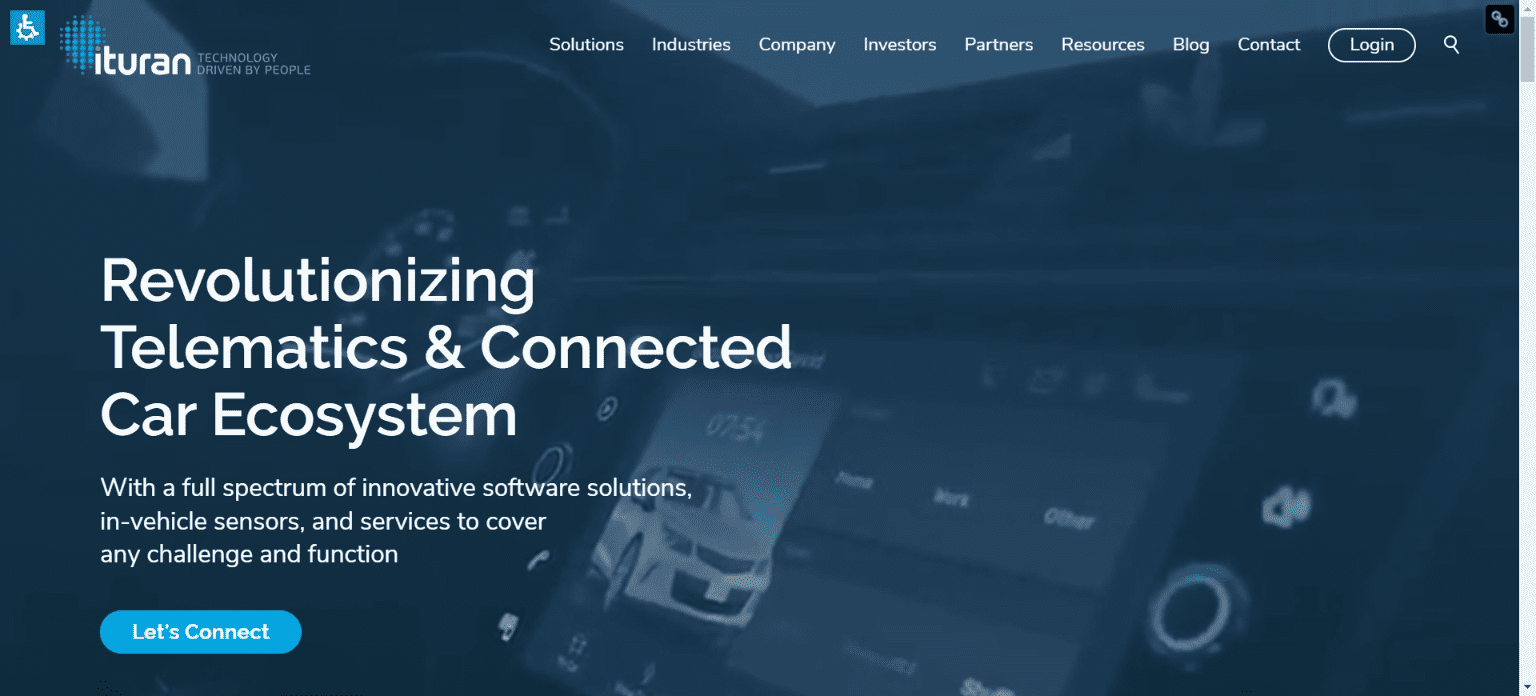 Ituran is a world-renowned leader in telematics and connected mobility. They are actively operating in more than 20 countries including the USA, Canada, Israel, India, Brazil, and many others. They have established themselves as a reliable telematics solutions provider known for their technology, network coverage, and proactive customer support. 
They specialise in both off-the-shelf and bespoke solutions and services. They also deal in hardware as well as software solutions. They actively acquire start-ups and budding technological ventures in the telematics and mobility space. Bringg and Mob-Lab are two of the most promising acquisitions by the company. 
Ituran's core offerings include GPS tracking and a stolen vehicle recovery system. Their value-added services comprise fleet management, driver behaviour analysis, insurance telematics, and routing technology. 
Company Name

Ituran Location and Control Ltd

Founded

1995

Headquarters

Tel Aviv, Israel

Products & Services

Fleet Management Solutions

Stolen Vehicle Recovery

Car Connectivity and User-based Insurance
7.Fleetio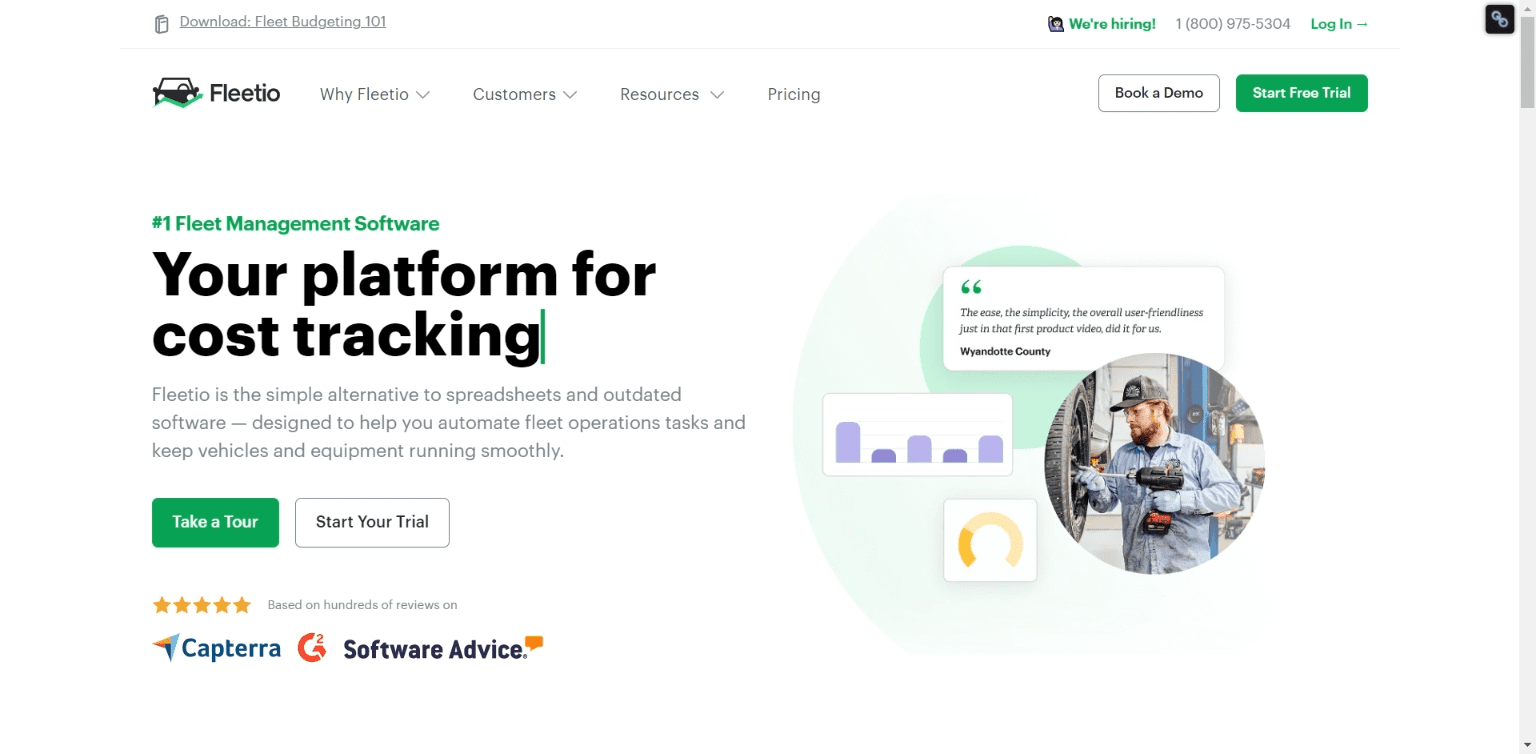 Founded in 2012, this Birmingham, Alabama-based company offers a comprehensive platform designed to streamline fleet operations and fleet maintenance to businesses of all sizes. 
They have carved their niche and all their solutions are targeted towards catering to the needs and want of the fleet-oriented niche. Their white label GPS tracking software solution allows fleet monitoring, fuel consumption tracking, maintenance scheduling, and driving behaviour monitoring.
Company Name

Rarestep Inc.

Founded

2012

Headquarters

Alabama, USA

Products & Services

Fleet Management Software

Fleet Maintenance Software
8. GpsGate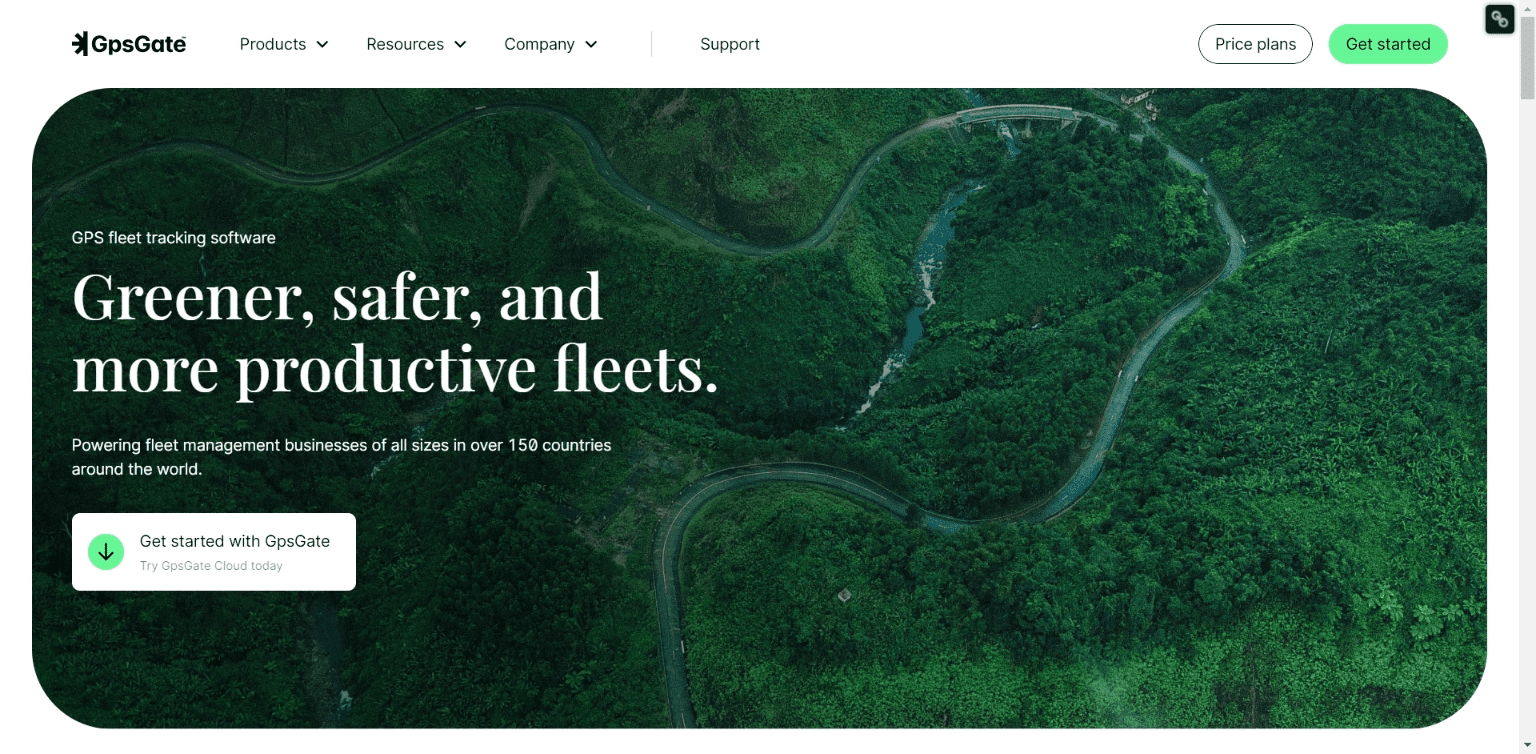 This Scandinavian software company is a global name in fleet management solutions and tracking services. They take pride in being recognised as a technology and software company.  One of the pioneers in the telematics and GPS tracking space, they have a strong hold on more than 100 countries across the globe. 
GpsGate's added efforts towards ensuring security and setting new benchmarks in digital safety have gained trust and reputation globally. 
The white-label GPS tracking software solutions by GpsGate support a wide range of hardware devices and seamlessly integrate with third-party systems. 
Company Name

Franson Technology AB

Founded

2007

Headquarters

Stockholm, Sweden

Products & Services

GpsGate (Fleet Management Software)

Splitter (GPS Signal Splitter)
9. Navixy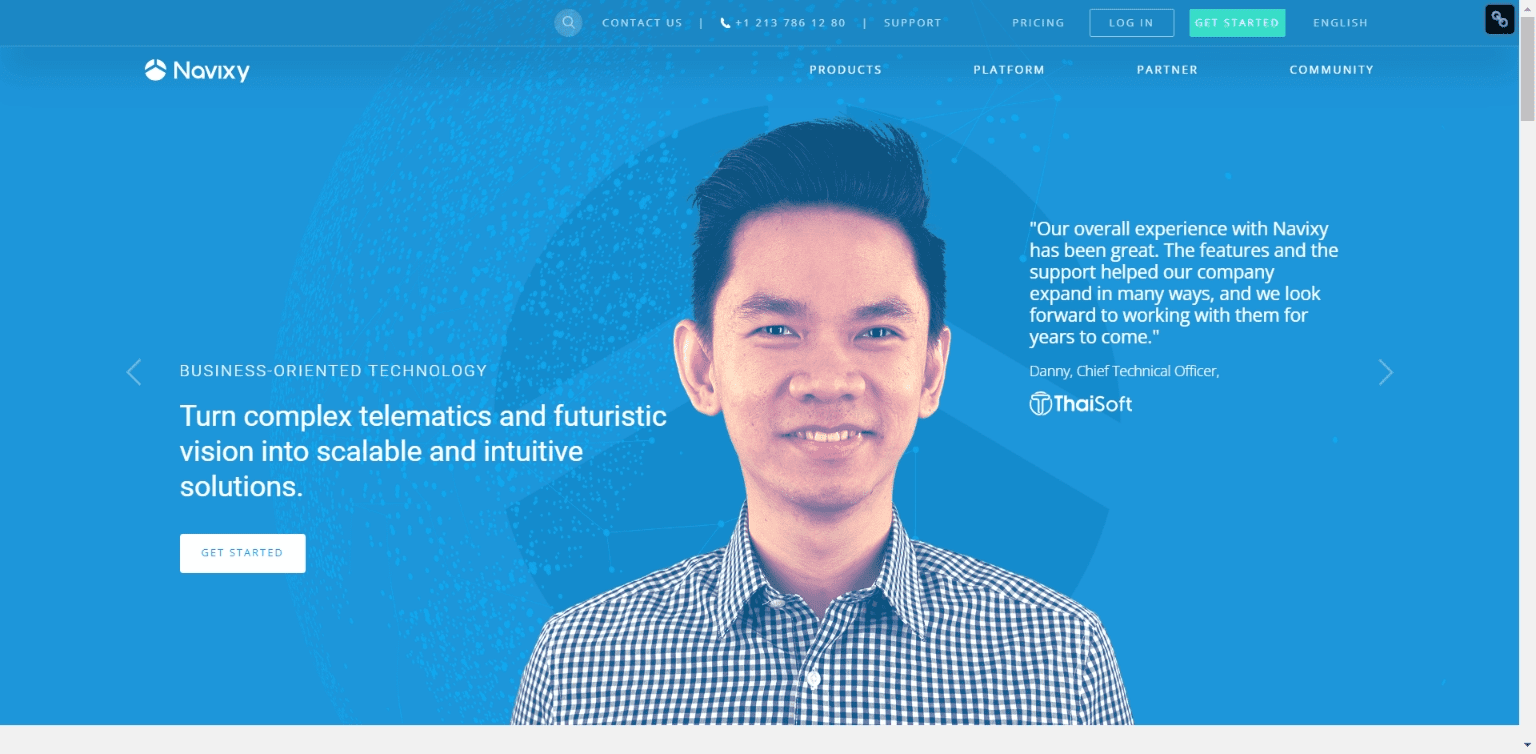 In the last 15 years, Navixy has grown leaps and bounds as a software company and made a place for itself at a global level. They are recognised as top-notch telematics and GPS tracking software providers. 
This American organisation has a significant market share in Mexico and other parts of Latin America. One of the key strengths of Navixy is its' user-friendly interface, which mitigates the biggest challenge posed by developing markets such as Mexico. 
Navixy also offers white label GPS tracking solutions in the asset tracking, fleet management, and field service domain. 
Company Name

Franson Technology AB

Founded

2008

Headquarters

Los Angeles, USA

Products & Services

Asset Tracking Software

Fleet Management Software

Field Service Management Software
10. Fleetroot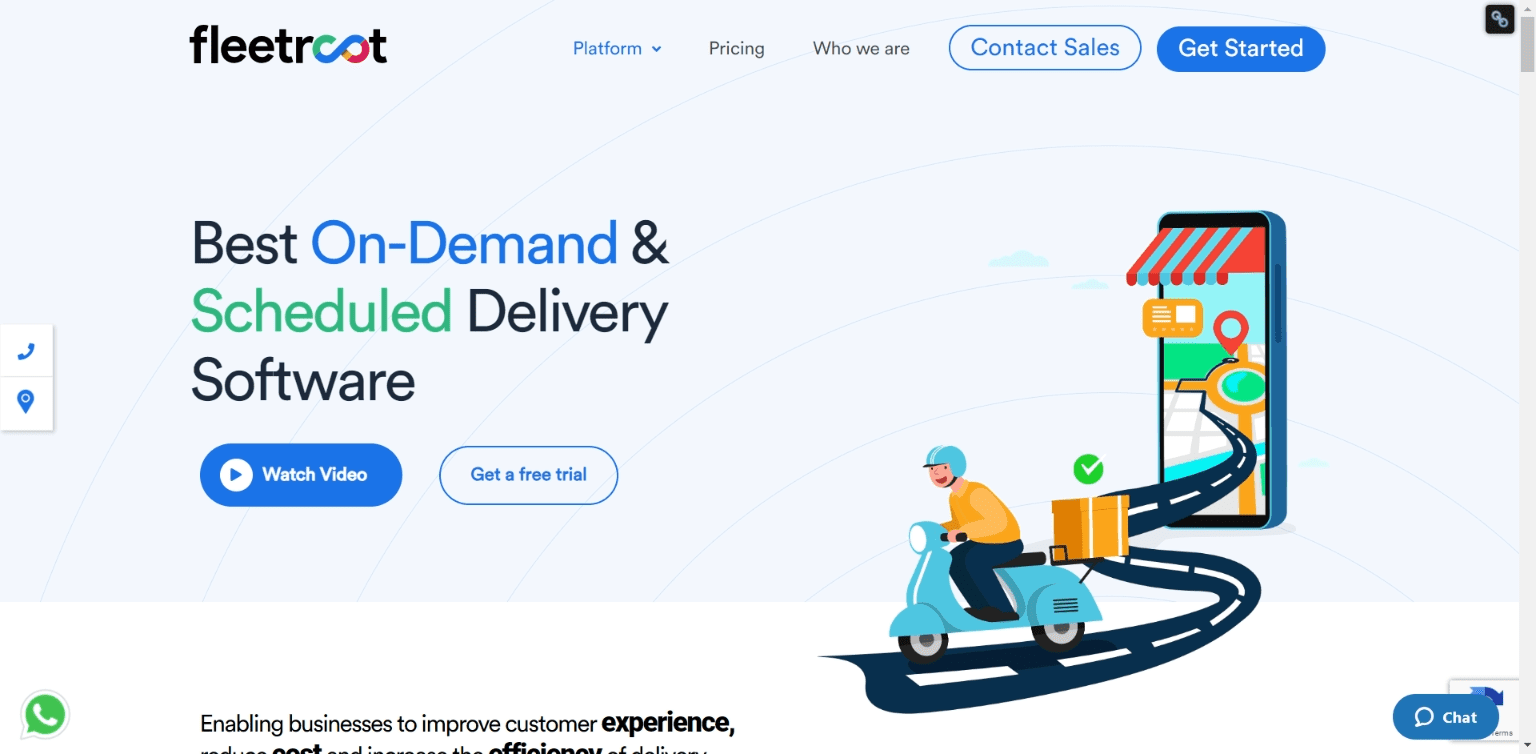 A young transportation and telematics SaaS platform with promising technology to revolutionise the logistics industry. Their primary solutions involve last-mile delivery and on-demand delivery software solutions. 
Headquartered in Dubai, UAE, this new-age start-up is aiming to modernise and evolve the transportation landscape. 
Their GPS tracking software offers an integrated ecosystem that is equipped to connect, orchestrate, and automate the final mile. Gradually establishing its dominance in the MENA region, Fleetroot is all set to leave its footprints across the globe. 
Company Name

Fleetroot Inc

Founded

2017

Headquarters

Dubai, UAE

Products & Services

Connected Logistics (On-demand Delivery Software)

Connected Operations(Fleet Management Software) 
Conclusion
Logistics, transport, and delivery operations are a few sectors that are heavily driven by telematics, in this time and age. Automation plays a crucial role in optimising fleet operations through GPS tracking software Companies like TrackoBit, Ituran and GpsGate are leading this technological upspring from the front. 
Today, we have anything that we won't just a few clicks and a few minutes away. How has all this been possible? Owning to the evolution of GSP tracking solutions and telematics, flawless last mile delivery operations are the reality of the time.