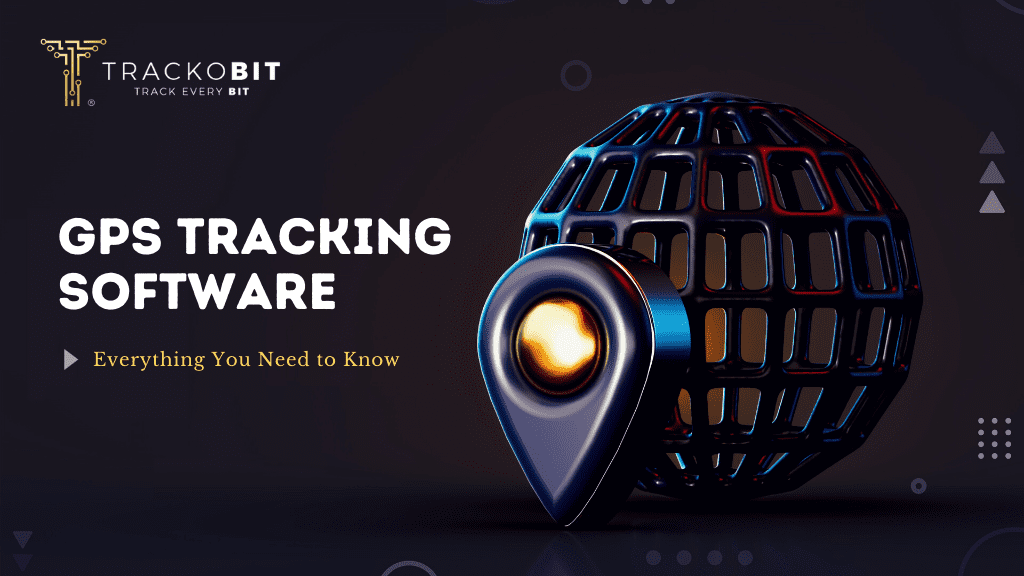 What is GPS Tracking Software? We've crafted a consolidated guide for your perusal. Check it out to know everything and anything about GPS Tracking systems.
GPS tracking software is not a fad, it's a fab solution for fleet management needs. GPS tracking is a fool-proof method to find out the exact location of objects. It helps in monitoring other factors such as speed, driving behaviour, trips and a lot more.
You'll find many GPS Tracking systems for cars, location tracking systems for commercial vehicles and vehicle tracking software for trucks. Modern Telematics software providers like TrackoBit are offering much more than just live tracking in their fleet management software.
Are you wondering how the high-tech world of GPS Tracking systems works? We'll acquaint you with the nitty-gritty of the technology in the blog. 
What is GPS Tracking?
GPS Tracking refers to the process of determining the location of an object or a person in real time using Global Positioning System(GPS) Technology. The GPS is the combination of satellites orbiting around the Earth, that discern the geographical coordinates. These coordinates are then transmitted to the central server or to the user's device to reflect the location on the map. 
GPS Tracking is commonly used in navigation, fleet management, asset tracking, personal tracking and many more applications.
What is GPS Tracking Software?
In very simple terms, a GPS Tracking software system is a virtual platform or an app that enables users to monitor and manage the movements of objects such as vehicles, pets, people, machines and more.
The software massages the locational data received from the GPS devices and displays it on a map interface for better understanding. GPS tracking software commonly provides features like live tracking, historical playback, geofences, alerts and reports.
GPS Tracking is an inevitable part of industrial sectors including transportation, delivery and dispatch, logistics and security services. Many organisations that have a large workforce working in the field also take the help of a GPS tracking system to monitor their field employees.
The basic requirement for remote tracking to work is a GPS device, an internet connection and the consent of the person whom/whose property you are tracking.
How GPS Tracking Software Work
How Does GPS Tracking Software Work?
Before jumping to the technicalities of the working of GPS Tracking software let's understand the concept of the Global Positioning System.
The hero of GPS technology is the GNSS, Global Navigation Satellite System. GNSS is a set of satellites orbiting around our planet that communicate with the GPS devices installed on Earth through electromagnetic waves. The combination of data received from different satellites forms the geographical coordinates of the device.
When trackers receive the signal from the satellites and store the data.

GPS Tracking devices convert locational and other vehicular data into data packets and shoot them to the server. 

There is a sim in the device that yields the network to relay data packets to and from the server. 

The software fetches the raw data from the server and processes it into a digestible format and reflects it on screen via UI.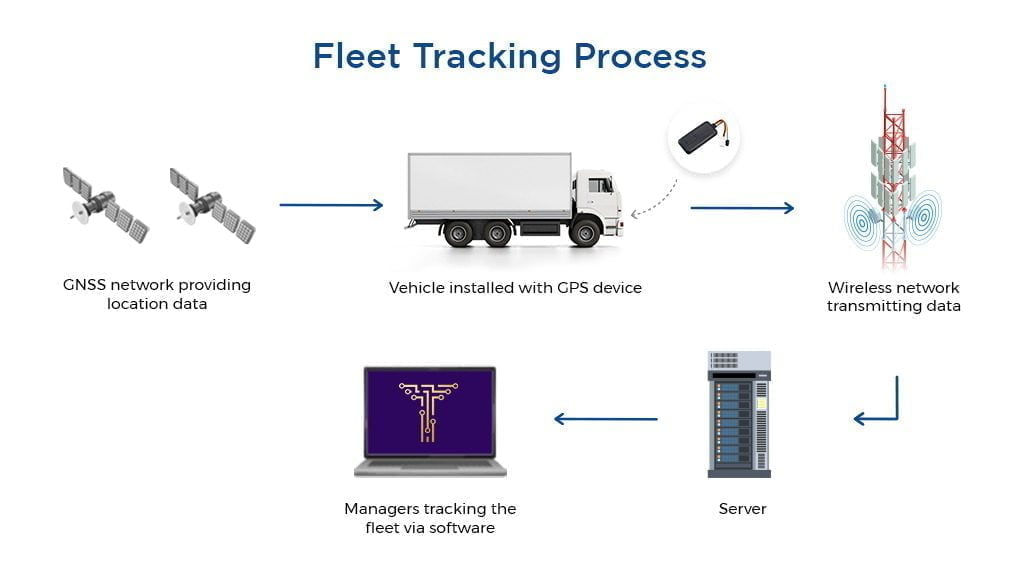 7 Benefits of GPS Tracking System Software
GPS Tracking Software Solutions are a boon to the current industrial scenario. They have automated and accelerated growth across the sectors. 
Wondering how GPS Tracking software would benefit the fleet management industry? Let's discuss the advantages of a GPS Tracking system in detail. 
GPS tracking lays the foundation for a hundred other monitoring metrics. Hence improving visibility into fleet operations. Estimated time of arrival, route deviation reports, planning fuel refill stops, and delivery management are just a few byproducts of GPS Tracking solutions.
You get detailed reports on trip execution, task performances, deliveries and other activities automatically. These reports uncover hidden operational anomalies and help take crucial business decisions. Real-time updates enable instant decision-making backed by data and insights.
Uncompromised Asset Safety
GPS Tracking software for fleets improves asset safety by virtue of geofences, parking more, immobilisation, route deviation, elocks, etc. that are fueled by GPS Tracking. Video Telematics i.e. ADAS and DMS provide an added layer for asset safety.
Enhanced Customer Experience
The primary concern of any consignee or consignor is the safety of the consignment and the second is timely delivery. Both can easily be fulfilled via GPS Tracking software. Automated trip creation, dispatch planning, and route optimisation ensure flawless and fast deliveries. Regular ETA curbs most of the customer queries. However, complete visibility into the supply chain allows the customer support team to answer customer queries with confidence.
Improved Efficiency of Assets
GPS Tracking software for trucks, cars or any vehicle keeps a tab on vehicle speed, deliveries, fuel consumption and more. Round-the-clock monitoring of assets helps find glitches, bumps, and profitable opportunities. When you mitigate challenges and fix the problem areas you'll see a direct impact on efficiency.
Reduced Operational Costs
When operations become flawless and efficiency improves, it has a direct impact on operational costs. Fuel monitoring is one crucial aspect of cutting extra costs. GPS Tracking software automates fuel monitoring, temperature monitoring, tyre pressure monitoring and much more for better optimisation.
With GPS tracking software for cars and other vehicles becoming a norm, digital documents have replaced files and papers. Invoicing, billing and reporting everything happens digitally. Other than this reduced fuel consumption, route optimisation and optimal vehicle health also reduce carbon emissions. 
Why Fleet Managers Need GPS Tracking Software
Logistics, transport and supply chain are some of the important industrial sectors that use GPS Tracking software to optimise their operations. GPS tracking software solutions are not a luxury for the fleet industry, it has become a necessity.
Fleet managers monitor whether or not drivers are following designated routes, meeting delivery schedules and avoiding unauthorised routes and actions.
Other than leveraging the above-mentioned benefits of GPS Tracking software, fleet managers need the software for:
Avoiding Major Setbacks in the Business
Historical data lays the foundation for automating future operations. The bigger the pool of data, the more accurate the predictions get. Not only this, you dodge possible setbacks or prepare yourself for better opportunities along the way. For example, it's due to historical data that Zomato papers itself for massive order volumes on New Year's eve, or Flipkart doesn't crash during big billion sales unlike before.
Fleet managers can also leverage GPS fleet tracking software for predictive analysis by utilizing historical data and trends to forecast maintenance needs, and optimize routes and schedules. It also allows for anticipating fuel consumption, and predicting driver behaviour, enabling proactive decision-making and cost-saving.
Staying Ahead of the Competition
While the world is harnessing the power of GPS Fleet Tracking software, the one who makes the best use of the resource stays ahead of the curve. Data gives you insights into fleet operations, analysing it well, driving logical conclusions and deducing predictive analysis is what the real game is. Software like TrackoBit comes with an inbuilt analytical dashboard to simplify your competitive game a bit.
Scalability and Growth Opportunities
For growth opportunities, managers can analyse data on fleet utilisation, customer demand, and performance metrics. With accurate data on the fleet's actual capacity, strengths and weaknesses, fleet managers can make informed decisions on fleet expansion, resource allocation and operational adjustment to accommodate scalability. This allows them to scale their fleet operations effectively, optimize resources, and meet increasing customer demands while maintaining efficiency and profitability.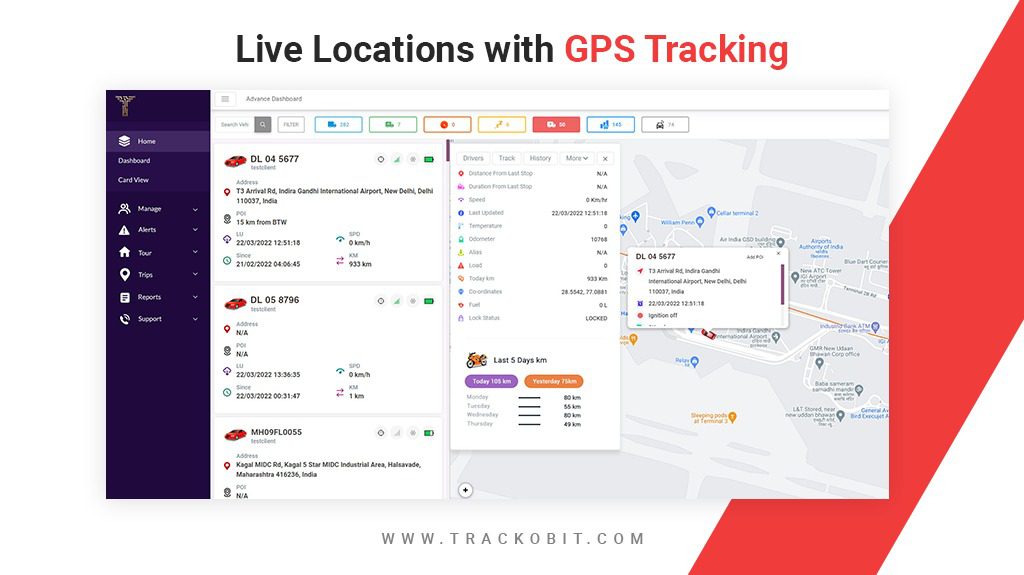 Features You Get with the Best GPS Tracking Software for Trucks, Cars, Bikes and Other Vehicles
The list of features is long and inexhaustible. A complete GPS Tracking Software for vehicles comes with custom features. Like many sensors or solutions, you opt to define the features, alerts and reports you get. Here, we are sharing a list of common features of the best GPS solutions for commercial vehicle tracking.
Reports and Analytics
ETA, POD and Route Deviation 
Driver Behaviour Analysis
Driver Score, Rash Driving Alerts, Driver App
SIM, Devices and Vehicles
Fuel Monitoring, Load sensing, eLocks, Temperature, etc.
Payment Gateway, Invoicing, and Payment Log
Servicing reminders, License Renewal, Permit Expiry Alerts
Alerts, Announcements and Notifications 
Parking Mode, Immobilisation, Deviation Alerts
Choose the Best GPS Tracking Software Service Provider
While you are beginning your search for the best GPS Tracking software for you, you might have some questions or doubts in your head. That's absolutely fine. This 101 guide will help you choose the right fleet management software.
TrackoBit's comprehensive fleet management solutions and accuracy of reports make it one of the foremost choices of fleet managers and owners. Their custom solutions service and use-cases-based features make it the perfect match for enterprises big or small across industries. You name the fleet monitoring solution you seek and you'll have it. 
Their uncompromised compatibility with every hardware device or sensor that integrates with TrackoBit's platform has proven to be the core reason for client retention. Of course, round-the-clock software uptime and multi-lingual support are some of the additional features that lure a giant client base.
We hope we have covered all your queries from 'What is GPS tracking software' to 'how it works'. 
GPS Tracking solutions for trucks, cars, bikes, etc. are popular in the logistics, supply chain and last-mile delivery sector. If you wish to know more about how Telematics is redefining these sectors, explore more.
———————————xxxxxxxxx———————————