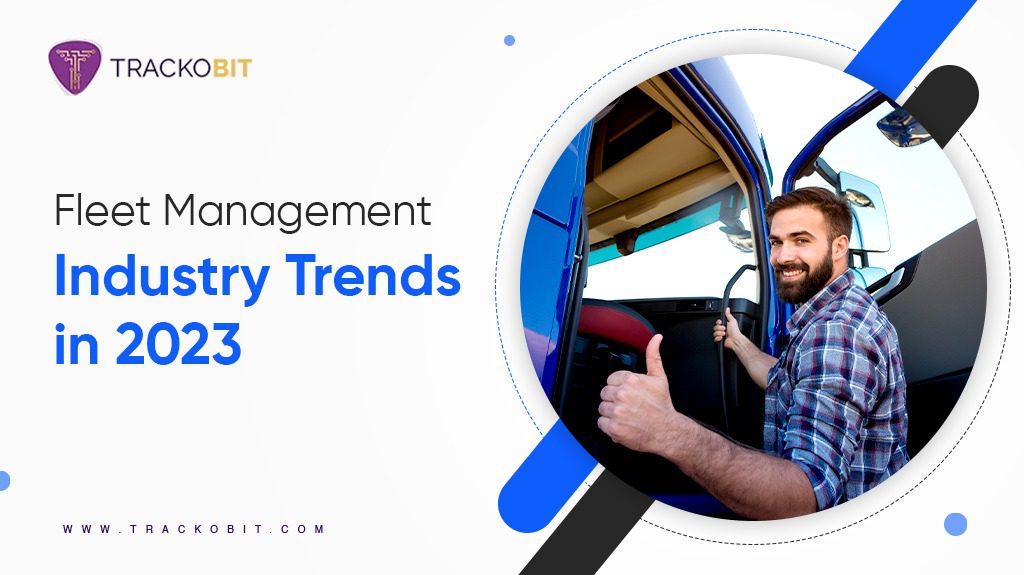 The year 2023 is going to be one of innovations and development for the fleet management industry. This is why it is important to look at the upcoming industry trends and plan accordingly.
The year 2022 has seen its own share of both struggles and technological developments. With a new year here, it is important that we look into the upcoming trends in the fleet management industry that will help us stay ahead of the curb. 
 "Good fortune is what happens when opportunity meets with planning." – Thomas Edison
Developing plans for the year 2023 should happen only after the proper study of the upcoming changes. Through this blog, we will look at some of the predicted fleet management trends. 
Fleet Management Trends in 2023
So what do you think will be the trends and rules of the fleet management industry this new year? Any guesses?
Here is a list of trends we have predicted will lead the industry and help fleet businesses grow. But do not worry, these predictions are not coming out of thin air. We have reasons backing our arguments. Let us learn why we believe the fleet management industry is set to change in 2023.
Data Security
Data theft is an issue for several fleet businesses these days. Why? Well, with almost 55% connected vehicles, stealing data to make some extra bucks is tempting, isn't it? But for fleet businesses, this can lead to not just monetary losses but also diminished resources and clientele. 
Fleet businesses these days are paying special importance to their security system. This is why fleet management systems also need to be equipped with the right kinds of data theft precautions. Otherwise investing in such software becomes fruitless if their collected data is simply leaked for others to take advantage of. 
Password-protected fleet management systems are expected to become the norm in the upcoming year. 
This will also lead to more responsibility for the providers as they now have the task of regularly testing their system to detect any bugs that might jeopardise their customers' fleets and their data. 
Time Slot Management
The logistics industry is ever changing and this year can also be one of innovation. Due to the growth over recent years, a large number of vehicles have been added to this sector. Warehouses have been experiencing more traffic than ever.
While this high number is good news for most businesses, warehouse employees have come face-to-face with chaotic operations. Having to deal with several vehicles at the same time is one of the prime reasons behind inefficiency. 
Thus, warehouses have started relying on technology and data to declutter their operations. They study the pattern and the time that the vehicle takes to cover their designated path and then allot them time slots accordingly. 
This means a more systematic approach to this growth!
Eliminating errors becomes very easy with time slot allotment strategies. Managers can shift their concentration to a couple of vehicles instead of handling several ones at the same time

Outsourcing Deliveries
We mentioned above that the logistics industry is constantly changing. This change stems from its use cases just as much as it does from its operations. Not every business that needs to transport its goods has warehouses and fleets to execute such tasks. This is why outsourcing deliveries is slowly gaining popularity. This process can be considered a branch of third-party logistics. 
But operating a third-party logistics business comes with its own set of challenges. The first and foremost is the gap in communication between fleet managers and clients. But this problem is easily solved by sharing ETAs and vehicle status with clients. 
Sharing information and overall better visibility can not only make it easier for clients to trust a fleet business but can also help them have more control over how their consignment is transported. 
Thus, fleet businesses gain a better reputation via word of mouth. 
Focus on Sustainability
Sustainability is the talk of the world. The global agenda is rapidly changing to incorporate sustainability into their operations. Thus, it is safe to say that the fleet industry also stands at the edge of change. And for justified reasons! After all, on-the-road transportation alone is responsible for 90% of all transportation related pollution. 
So how can fleet businesses make their move towards greener operations and safeguard themselves from the government's scrutiny? 
Before contemplating a shift to electric vehicles, fleet businesses need to look for the loopholes in their operations that might be causing excess carbon emissions. This might include bad driving behaviour, low vehicle maintenance, and constant route deviation. 
Eco-driving is the answer to this problem. Adopting nature conscious driving practices benefits both the environment and fleet businesses. 
It helps them conserve fuel and maintain their vehicles for long periods of time. Managers need to monitor their vehicles while they are out performing tasks. This will help them eliminate any instances of harmful driving that can lead to challans and tickets as well. 

Smart Agriculture
Simplifying farming with the help of new-age machinery is a very vital part of smart agriculture. It is the shift toward more data-oriented operations that set it apart from the present day farming techniques we see post-industrialisation. Some of the commonly used technologies under smart agriculture are:
Drones:

They can help collect data and also supervise the farm, holding the power to cover hundreds of acres in a single flight. Integrating video telematics with drone management can help managers get a better perspective of their fields. It helps them keep surveillance of the field and also plan out the irrigation structure.

Sensor Integration:

Using IoT for tracking field activities can help agricultural businesses ensure efficiency and productivity. These sensors might include things like measuring soil level and moisture detectors on the field. Using this data for optimisation is a step for agricultural businesses. 
Investing in a system that will help them track drones and also process data will help such businesses a lot. And this is where the opportunity for the fleet management industry to grow also comes up. Locational tracking of drones and data oriented operations can help them make the best out of smart agriculture. 
Must Haves for Your Fleet Management Software
When selecting a fleet management system suitable for your fleet business, the requirements of a manager and driver can vary from one another. Here are some things that fleet businesses should ensure are a part of their GPS tracking system:
For Drivers
Drivers are who execute the tasks of a business and it is very important that fleet business owners adhere to their needs before deciding upon software. Some things that can help drivers not only become more productive but also boost their safety are:
Driver App:

The driver app can help drivers keep track of their tasks on a single platform. With the help of driver scores, their productivity index also changes significantly, helping them track their performance and work on the things that are lacking. Thus, boosting their personal quality and value. 

ADAS:

This system ensures that drivers have an extra set of eyes on the road. With features like collision alerts, they can ensure a low number of accidents under their name. In case of any accident that is not the fault of the driver, this camera system can also vouch for their innocence. 

SOS Button:

Having an emergency button is an added layer of security that fleet businesses should not miss out on. Integrating this into the system ensures that drivers can alert managers of any incident that needs their immediate attention. Some common utilities of this button are in case of accidents, vehicle breakdowns, and so on. 

Hours of Service:

The latest ELD mandate has helped realise the importance of tracking drivers' working hours. It prevents drivers from overworking themselves, in turn helping them be in their best condition on the roads. Tracking HOS ensures healthy working hours and adds an extra layer to the driver's security.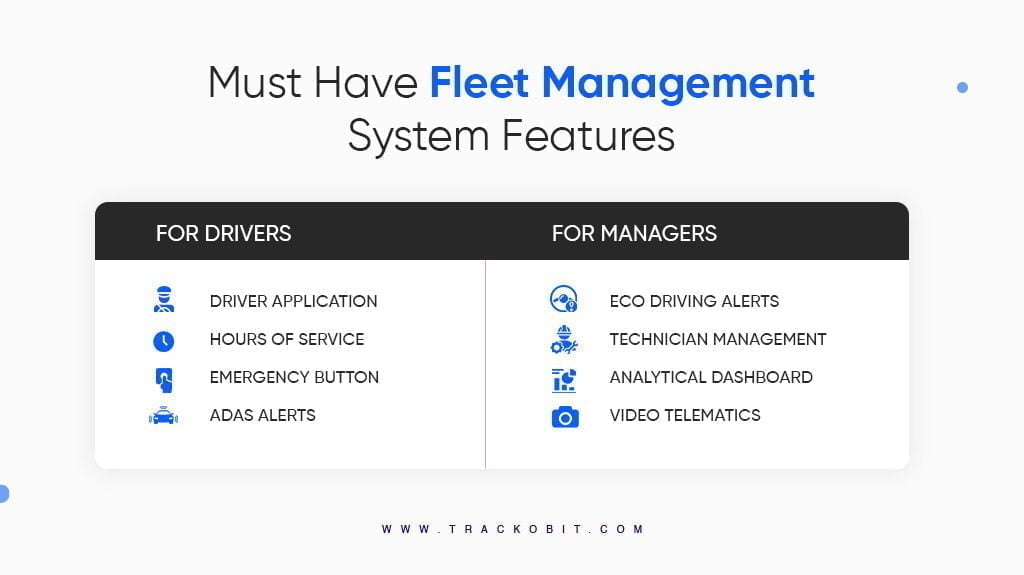 For Managers
Managers are the backbone of any fleet business. Having to juggle several responsibilities at the same time can be very hard and might even lead to inconsistencies. This is why Investing in automation systems can be useful for managers. Some of the features that should be considered before investment include:
Eco Driving Alerts: Having a fleet that wastes resources like fuel and has a high carbon emission rate can harm the business' overall productivity. This is why the fleet management system needs to have alerts that help managers introduce and promote eco-driving. Some examples of such alerts can be idling and overspeeding.
Technician Management:

Technicians, while important to a fleet business, can put the businesses at a risk of data leak if given full access to the system. This is why the admin app helps managers ensure that they keep track of their technicians and their tasks. Customisable software ensures that admin can regulate the access to their data as well. 

Analytical Dashboard:

Having insights into the fleet's performance right as managers enter the system can be very helpful. No more hassle of studying extensive reports to learn where their vehicles and drivers are lacking or making operational errors.

DMS: The video telematics system ensures that any instances of distracted driving that potentially harm the fleet's safety are eliminated. The driver monitoring system uses driver-facing cameras and advanced AI to detect distracted driving. Managers do not have to worry about their fleet's safety this way.
Conclusion
Innovation is ever flowing and this is why the fleet management industry will also be exposed to several trends in 2023. But keeping up with these trends can be very hard. Having a flexible fleet management software will never go wrong in such cases. It will help you stay up-to-date with the market and move towards growth.
Well, here at TrackoBit, we have a team of innovators that works tirelessly to bring you the best in the market. After all, we are not considered one of the bests in the market for nothing. With 24*7 support, our clients are always aware of all the latest updates in the pipeline that help them stay ahead in their game.
Get a demo to experience our top-notch
customer service and robust solutions!