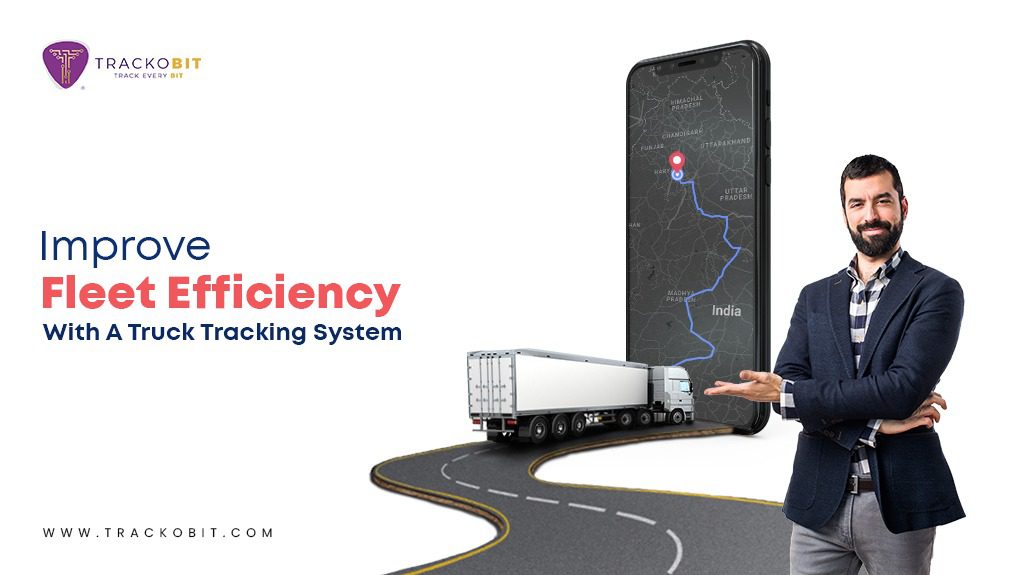 Maximize efficiency and minimize costs with the truck tracking system, which might be the key to beating your competition as well! 
Utilizing an inefficient fleet is a big no for companies that rely on commercial vehicles to do their business. This will have repercussions that will only lead to your business losing out on clients and profits. Now that is something we don't want, nor do we want the headaches of drivers calling for vehicle breakdowns. And that is reason enough to turn towards a truck tracking system. 
A truck fleet tracking software will monitor your trucks' whereabouts and ensure that your drivers comply with the rules and regulations. In addition, it will help you be in sync with the on-ground activities of the fleet, allowing you to detect and eliminate practices that might be causing fleet inefficiencies.
Increase Your Fleet Efficiency
How Do You Increase Fleet Efficiency?
Fleet managers have much on their plate, from cost control to ensuring drivers and vehicles are always safe and productive. However, since each decision and step could potentially affect the fleet's efficiency, there is no chance of errors left.
There is a desperate need to streamline vehicle management, eliminate errors and keep the operations rolling to increase the fleet's efficiency.
Utilize Technology
The right kind of technology can be your strongest ally in managing and maximizing your vehicles' efficiency. For example, the truck tracking system is an excellent choice as it helps you make the most out of drivers and vehicles. In addition, it will provide valuable metrics in real-time, allowing you to take action timely before the situation gets out of hand.
Read More: Qualities of a Great Fleet Manager
Gain Real-time Visibility
Heading down the technology path, you can gain live visibility of your fleet and drivers' performance through softwares like video telematics. Furthermore, the technology will let you set up alarms, notifications, and virtual boundaries, keeping you updated on your driver and vehicle's activities and location.
Control Fuel Consumption
Excessive fuel consumption is a prime reason for the rising cost of operations. However, to control it, you first need to know the right amount of fuel used, not just per vehicle but also per trip.
Employing tools like truck tracking software not only allows the live tracking of the fleet but also derive data from sensors and successfully detects excessive idling, fuel theft, and aggressive driving. These activities are causing excessive fuel consumption and thus weighing down on your budget.
Monitor Driver Behavior
Employing mindful drivers can help save your business and vehicles from meeting disasters. Such drivers are less likely to indulge in road rage or aggressive driving. Instead, they will follow the set parameters and KPIs. And to ensure that this happens, driver behavior monitoring becomes inevitable. 
Additionally, driver behavior monitoring software with a driver scorecard will help you differentiate good drivers from bad ones.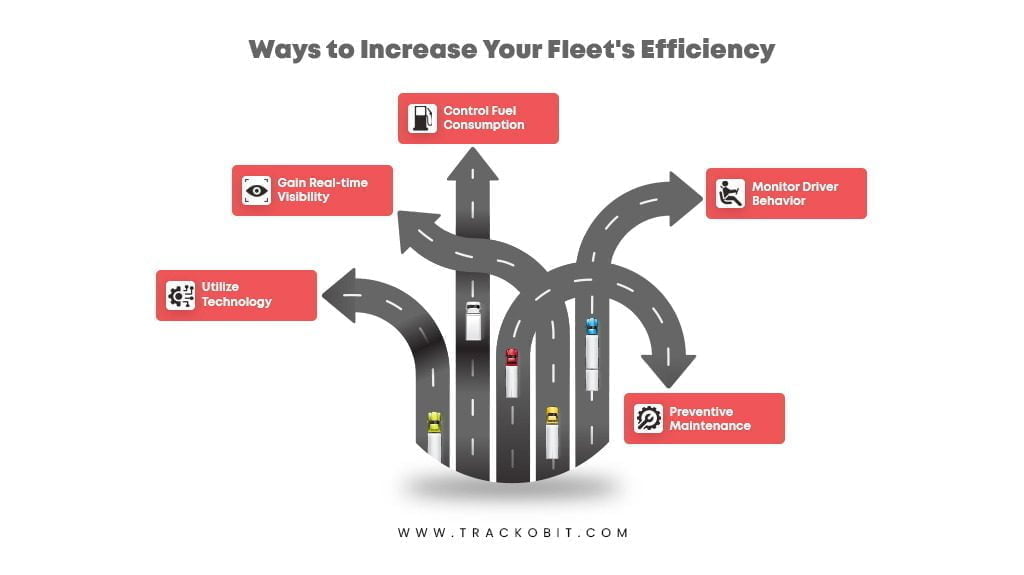 Preventive Maintenance Plan
The reason behind downtime is often inefficient fleet maintenance. Regular servicing is necessary to keep your vehicles pristine and reduce the chances of breakdowns.
Tracking your vehicle's health on a whiteboard might become arduous. For this, you need a fleet truck tracking system for detecting and notifying the drivers and managing whenever the vehicle needs maintenance.
The best part of adopting a GPS truck tracking system into your platform is that it does all of the above and more in one place. There is no need for you to use multiple platforms.
How Truck Tracking Systems Work
A truck tracking system is a telematics software that is best used by companies relying on fleets for business. The software provides fleet operators with live data from the sensors, dashcams, and OBD integrated into the vehicles. This is vital for companies as it helps maintain the fleet's and drivers' productivity and efficiency.
Only the best truck tracking software offers solutions beyond GPS tracking, like route optimization, fuel monitoring, driver behavior monitoring, video telematics, and much more. So not only the transportation or logistics industry but any industry can use this software to track their vehicles and assets.
What Are The Benefits Of Truck Tracking?
There are multiple reasons for using a truck tracking system. For each company, it's different – some want to save money, others want to improve the efficiency of the operations and enhance driving practices, or have it all.
Read More: Fuel Savings Are Critical For Small Business
Reduce Fuel Costs
Fuel consumption is one of logistics businesses' biggest expenses. But the GPS truck tracking system, through various solutions like fuel monitoring, route planning and optimization, and driver behavior monitoring, can ensure that the fuel consumed is just the right amount.
Track Locations
As the name suggests, the system can track your vehicles and equipment accurately and in real-time. This makes it easy for operators to send help in case of breakdowns.
Customer Satisfaction and Retention
A truck tracking system allows you to share accurate ETA and guarantee asset security. This is because of live tracking and route planning which helps to prohibit shady paths.

Driver and Vehicle Safety
The software sends out alerts and notifications whenever the drivers indulge in reckless driving practices, harsh braking, or frequent lane changing, which might lead to accidents and breakdowns.
Improve Performance
The truck tracking system is vital if you don't want your drivers to hand you fine tickets and repair bills constantly. Also, their risky driving escalates the wear and tear of the trucks, which is not good news. The system lets you gamify the process, which helps to ensure that the drivers comply with the set rules and regulations in the most rewarding manner.
Enhanced Productivity
Not having to answer operators' calls inquiring about updates and location constantly can be freeing for the drivers. Also, the system shares all the details of the operations, making it easy for the drivers to have the entire route in front of them, letting them focus on driving. Moreover, they don't have to worry about the stops and petrol pumps as everything is planned beforehand.
What Are The Major Features of Truck Tracking Systems?
A truck tracking system allows businesses to realize bottom-line benefits they can reap by using the software, like increased productivity, reduction in costs, etc. if you plan to invest in a truck tracking system or looking to switch your software provider, then it is essential to invest in a software that offers all the right features and a lot more beyond live tracking.
Fuel Monitoring System
Keep a check on fuel usage with an advanced fuel monitoring system. The system sends out instant alerts whenever there is a sudden drop or spike in the fuel level, thus reducing the chances of fuel theft. Also, it provides managers with real-time reports on fuel levels and the amount used.
Video Telematics Software
You can visually monitor your drivers and vehicles through video telematics software and effectively prevent accidents. This helps the managers to gain control of the operation. The video telematics software has two elements to it:
Advanced Driver Assistance System (ADAS) has an AI-integrated dashcam facing the road. It detects road activities like frequent lane changing and signal violations and sends preventive collision alerts.

Driver Monitoring System (DMS) uses an AI dashcam facing the drivers. It accurately detects when the drivers are drowsy, distracted, or drunk while driving. Instant notifications are sent to managers.
Driver Behaviour Monitoring
The GPS truck tracking system tracks your driver's driving skills and checks how they manoeuvre traffic and unleveled roads. Also, it notifies of the events occurring in transit, like harsh braking, tailgating, cornering, and unnecessary accelerating.
Route Planning Software
You can only deliver the consignment on time by route planning and optimization. Optimized route planning software will ensure that your fleet remains productive and efficient. After considering multiple factors, the software suggests the most suitable and shortest route for the trip. Also, you are notified if a driver deviates from the assigned route.
Track Your Trucks With TrackoBit
If you want your businesses to scale, the fleet to be productive, and overall operations to be profitable, there is no other way but automation and efficiency to have it all. The truck tracking system will help you streamline and optimize your operations, reducing unnecessary costs and rectifying bad driving practices.
TrackoBit is the best truck tracking software that will help you achieve the zenith of truck tracking and monitoring.