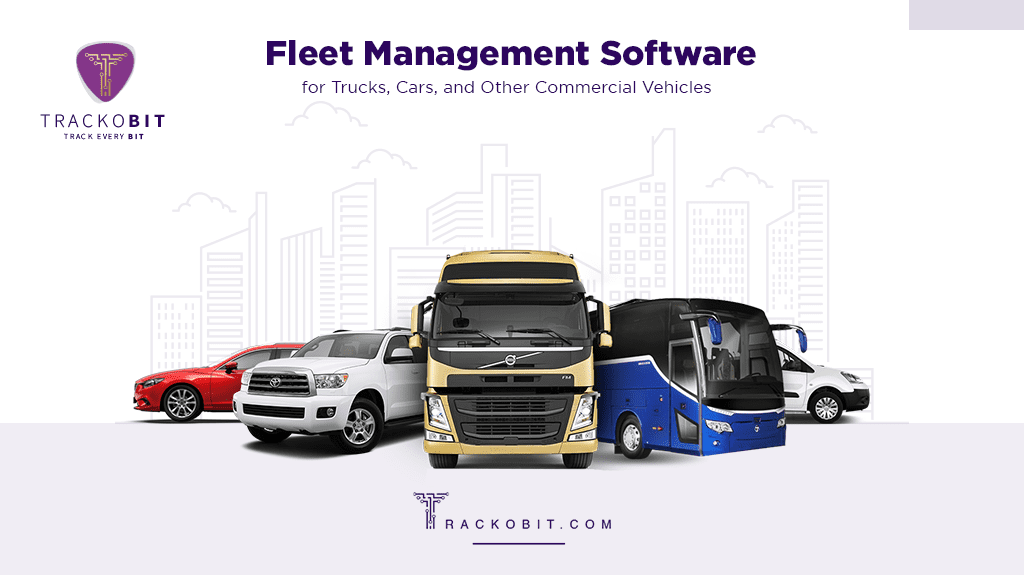 Managing one car sometimes takes a toll on us when it breaks down. Now, think of a fleet owner who owns hundreds of commercial vehicles that are on the run all the time.
Fleet management software for trucks, cars, and bikes makes this tedious process simpler. Automation is the key ingredient in a fleet management system for commercial vehicles. 
"Automation is cost-cutting by tightening the corners and not cutting them"
Fleet management software for vehicles answers how to solve a problem and not who must solve it. Every industry involves different use of vehicles. In logistics, vehicles play a primary role in shipment, whereas in e-commerce different types of vehicles are used in first, mid and last-mile delivery. In the construction industry, the fleet of vehicles consists of excavators, earthmovers, and generators. However, mainly tractors, ploughers and similar equipment are used in agriculture.  
So, is it possible for one software to track or monitor all sorts of vehicles? Absolutely, yes. TrackoBit can track and manage anything from e-rickshaw to reefers, generators and humans.
Does Fleet Management Software for different vehicles offer different features?
What do you think? Oh yes! However, the accessibility of features depends on the client's needs and not on vehicles. 
Some common features such as live tracking, vehicle status and history come with every fleet management software system. Features such as temperature monitoring, tour planning, driver behaviour, etc. are optional that a few industries may not need, hence, the client will not ask for them. 
Fleet Management Software for Trucks and Reefers
Trucks and reefers are mainly used in the logistics and the supply chain sector. The Indian logistics industry is valued at US$250 billion in 2021. It is expected to grow at a CAGR of 10%-12% to US$350 billion by 2025. There is a massive scope of development. Software-aided fleet management speeds up the process and adds to the efficiency.
Trucks, reefers, trailers and flatbeds are some of the commonly used vehicles in the first and the mid mile delivery of products. Step vans, pickup trucks and bikes are used mainly for last-mile delivery. So, what are the most commonly asked features in the fleet management software for trucks?
Tour management, route planning, and route deviation are the primary features of the supply chain industry. Temperature monitoring, fuel monitoring and load sensing require an external sensor through which the software fetches the data to generate reports. 
TrackoBit has many FMCG clients who avail additional solutions such as driver behaviour monitoring and video telematics – DMS and ADAS. They wanted complete insights into route planning, trip management, driving behaviour and consignment safety.
Even after the automation of the logistics industry is on double engine speed, the logistics sector costs almost 14% of the Indian GDP. It is 4% more than the BRICS average and 8% more than the developed countries such as the USA, Germany, the UK and others. The government is also making efforts to automate the supply chain of the country and bridge this gap in numbers.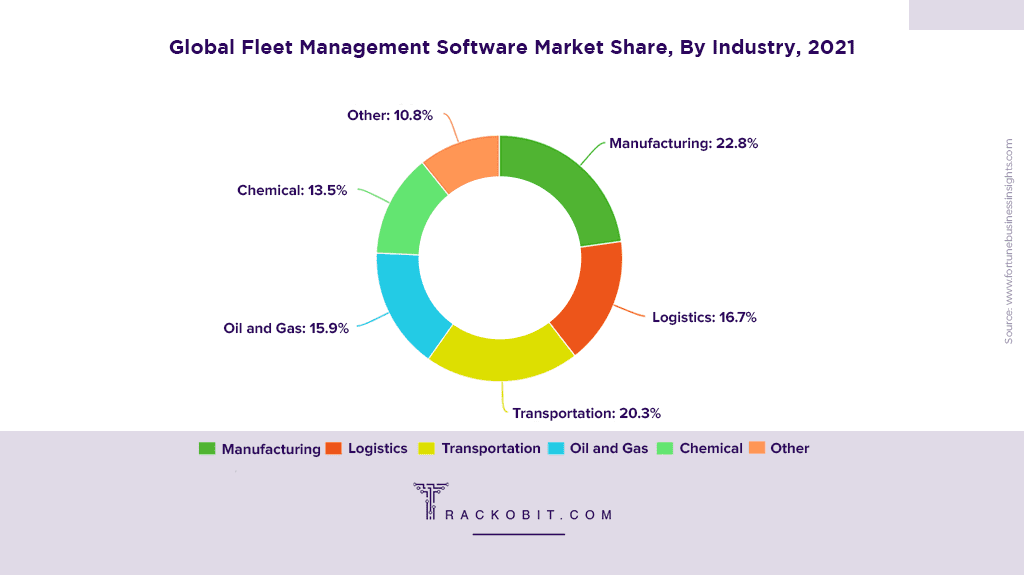 Fleet Management Software for Cars and Bikes
Fleet management software is a commercial product as it is meant for a fleet. People looking for car and bike trackers actually seek personal tracking software, not commercial fleet tracking software. However, rental and cab companies have a fleet of cars, bikes and autos. They require a fleet tracking software system to manage multiple vehicles, out in different places, managed from one place.
Other than common features such as live tracking, speed monitoring and distance travelled, you get a bunch of custom features. Auto billing, e-invoicing and trip history are some custom features clients ask for. 
TarckoBit is easily compatible with OBD CAN, therefore, fetching accurate and in-depth vehicle insights becomes simpler. Similarly, data collection from bikes and autos is also possible through OBD.  
Fleet Management Software for EV, Electric Vehicles
The mechanics of an EV work differently than the ICE (Internal Combustion Engines) vehicles. Therefore, the vehicle tracking system also operates differently. The EV requires a separate fleet management software solution for itself.
People are willing to adopt e-mobility. Electric Vehicles saw a notable spike in sales in 2020 despite a drop in overall sales of passenger cars. As per a report by Canalys, EV sales surged 39% globally, reaching 3.1 million units whereas, passenger vehicles dropped 14%. EV represented almost 5% of all new car sales in 2020. 
Fleet management software for EVs comes with a battery management solution. The BMS monitors the health and performance of the vehicle regularly. You stay on top of battery degradation by sending real-time alerts about battery discharge. Battery health monitoring, intelligent battery balancing and real-time voltage status are some custom features that come in an EV fleet monitoring system. 
Fleet Management Software for Excavators, Tractors and Generators
The fleet industry is not limited to logistics and supply chains. Construction, agriculture, medical and other industries also have a fleet of vehicles to manage their fieldwork. Fleet monitoring software for excavators, tractors, and other equipment automates mobility for various industries. 
If I talk about the construction industry alone, it demands reports and live updates on ignition hours, equipment performance, and whereabouts. Fleet monitoring solutions offer custom alerts and sensor integrations such as angle and rotation sensors. Other than moving vehicles, non-moving equipment such as generators also gets monitored easily. 
Tracking software for farming equipment and vehicle provides automatic area calculation, daily wages calculation and fuel monitoring solutions other than common tracking features. Similarly, according to industry and vehicle usage, the client requirements also change. 
What makes TarckoBit the first choice of all Fleet Management Software? 
TrackoBit is the leading choice of fleet owners as we offer custom solutions. We can design a tracking software solution from e-rickshaws, excavators, and tractors to buses, trucks any vehicle you have on your fleet. GPS tracking software development is our forte. Therefore, we exclusively designed employee tracking software, TrackoField, to manage the field workforce. Reach out to us to know more about our products and capacities.